Force Commander Rear AdmiralStefano Frumento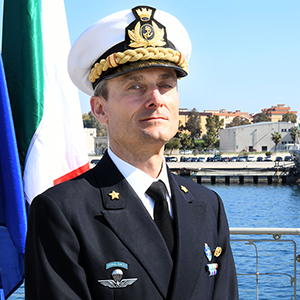 Rear Admiral (f.) Stefano FRUMENTO was born in Savona (SV) on 10 September 1971. He attended the Naval Academy from 1991 to 1995, at the end of which he was embarked on the Italian Navy Frigate "SCIROCCO" for a training period at the end of the Academy. In 1996 he received the RC / IOC (Surface Warfare Officer) qualification at the Navy Tactical Training Center of Taranto. After obtaining the "sub" (scuba-diver) and "in/parà" (Navy Special Forces airborne) badges at the "Gruppo Scuole of the NAVY Special Warfare Command "TESEO TESEI" (COM.SUB.IN), he was employed at the Navy Special Forces Group (G.O.I.) from February 1998 to July 2004.
During this period he was appointed Squad/PLT Leader until 2003 and Training/Operations Officer of the Navy Special Forces Group in 2004. During this period he has taken part into various national and multinational exercises and operations. From September 2004 to September 2005 he was the Commanding Officer of the Italian Patrol Ship SPICA of the Command of the Patrol Forces for surveillance and Coastal Defense (COMFORPAT). After that, he was appointed Director of the Navy Special Forces Qualification School at COM.SUB.IN until June 2008, when he was called to serve as Class Commanding Officer at Italian Naval Academy until 2011. From September 2011 to August 2013 he has been J5 Branch Chief at the Italian Joint Special Forces Operational Headquarters (COFS) in Rome and then, he was ordered as Commanding Officer of ITS GRECALE, MAESTRALE Class Frigate until September 2014. In this period he participated in the Mare Nostrum and Active Endeavour operations.
Back to the Navy Special Warfare Command, he was appointed XO of GOI and since July 2016 he has been Commanding Officer of the same Unit until 30 August 2018. From September 2018 to December 2019 he has been ITS GARIBALDI Commanding Officer. Then he attended the Higer Command Studies Course, HCSC in Estonia. From 1st September 2020 he assumed the position of Head of the Communication Office of the Public Information and Communication Office – UPICOM of the Navy General Staff.
He attended the following courses: "Special Forces Qualification (Green Beret)" completing the "Special Forces Qualification Course" (SFQC) in Fort Bragg, North Carolina, USA, in 2000; "IN" (Navy Special Forces) specialization at the Schools for Military Scuba-Divers and Navy Special Forces of COM.SUB.IN. in 2003; 46th "Corso Normale Di Stato Maggiore" Course (Course for Line Officers) at the Italian Navy Institute of Military and Maritime Studies (ISMM). Venice, in 2008; 120th NATO Defense College Senior Course (NDC) in 2012; Higher Command Studies Course at the Baltic Defense College in Tartu, Estonia, in 2020.
He owns the Raider, Scuba-Diver/EOD and military paratrooper badges. He was awarded with the following decorations: Traditional Badge for Italian Navy Special Warfare Command (COMSUBIN); Commemorative Cross for participating at the Military Operations in Afghanistan for internal security peace keeping; NATO Article 5 Medal for Operation Active Endeavour; Bronze medal for long standing merit; Golden Cross for length of service (25 years); Medal of Honor for long navigation 10 years and of the Commemorative Ribbon Operation Mare Nostrum.
He has a bachelor in "Maritime and Naval Sciences" (1995).