Chief of Staff Brigadier GeneralALESSANDRO AMENDOLA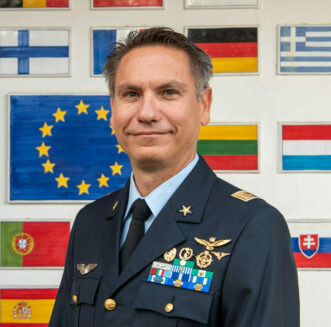 Brigadier General Alessandro AMENDOLA was born in Naples, in November 24th, 1971.
Education:
Brigadier General Alessandro AMENDOLA was commissioned in 1990 and he attended the Italian Air Force Academy into course "MARTE IV" as Pilot Officer in 1995. In June 1995, he graduated as a Military Pilot at the SUPT (Specialized Undergraduate Pilot Training) in Reese AFB, Texas (USA). He attended:
18th Pilot Production Tester in Pratica di Mare;
65th Normal Course at War School in Florence;
42nd Course on Flight Safety in Rome;
13rd Course in Superior Studies for Joint Major Staff (ISSMI), in Rome.
Assignments:
Brigadier General AMENDOLA was assigned to 41st Wing Sigonella AFB from 1996 to 2013. During this period, he was on duty as Commander of 86th Pilot Training Centre, 88th Anti-Submarine Squadron and in charge as Chief of Operative Center. From 2013 to 2016 he was assigned to National Supporting Group for NATO AGS as Core Head. From 2016 to 2020 he became Vice Commander of Sigonella Airport Command. In 2020 he was assigned to the Navy Inspector Office in Rome, as Chief of 2nd Branch for Training, Logistic and Personnel. From September 19th 2022 he takes office as Chief Of Staff (COS) at EUNAVFORMED OHQ for "IRINI" Operation in Rome.
Flight Information:
Flight hours: more than 4500 hours.
Aircraft flown: SF-260 AM, TW-A, T-37, T-38, MB-339, P-1150 Atlantic C,  KC-767, P-72A.
He is awarded with medals and decorations:
"Mauriziana" Medal for 50 years Military Service;
Gold Medal for Long Air Navigation;
Gold Service Cross;
Gold Long Command Service Medal;
Gold Badge for Long Anti-Submarine specialization;
NATO Medal for Mission/Operation in Kosovo;
NATO Art. 5 Operation Active Endeavour Medal;
NATO Operations Unified Protector Medal;
EUNAVFOR MED Operation SOPHIA Medal;
Commemorative Cross for "Mare Sicuro" Mission;
EUNAVFOR MED Operation IRINI Medal.
Marital status:
He is married to Stefania and he is father of Flavio.