Chief of Staff Brigadier GeneralMARCO PODDI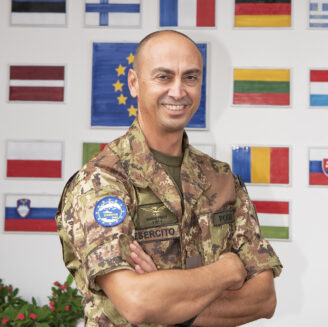 Brigadier General Marco PODDI was born in Cabras on 6th of February 1971.
After graduating in 1990, he attended the 173rd course at the Military Academy of Modena from 1991 to 1993, and the Application School in Turin from 1993 to 1996. He was promoted to Lieutenant into artillery Corps in 1995.
After few years that he had served as artillery officer, in January 2001 he started the flight school in the U.S. to become helicopter pilot. He served in the 5th Army Aviation Regiment as pilot and then in the Airmobile Brigade as staff officer. Furthermore, he commanded the 25th Army Aviation Battalion of the 7th Army Aviation Regiment, and on promotion to Colonel, he was appointed as Commander of the 7th Army Aviation Regiment in 2017.
He also served in the Army General Staff from 2010 to 2017; in particular he served in the Employment of Personnel Department.
He was deployed abroad in Kosovo in 2006 as helicopter pilot and Chief of operation branch, and in Afghanistan in 2008 as operation staff Officer in RC-WEST.
During his career, he attended the Army War College in Turin in 2005 and the Joint Staff College in Rome in 2009. He obtained a degree in Political Sciences and another in Economics and Law of Companies and Public Administration. Moreover, he earned 3 Master's degrees in strategic sciences, e-learning and International Organizations and Institutions.
Brigadier General Marco Poddi is married to Sara and is the father of Mattia and Giulia.