Chief of Staff Commodore Michail D. Magkos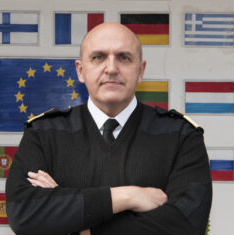 Commodore Michail D. Magkos HN was born in 1964. He graduated from the Hellenic Naval Academy in 1987 as Ensign, starting his career as Deck Officer. As a Hellenic Navy Officer he has an expertise in CIS and Comms. He achieved to be well educated through various Naval Schools and courses.
He successfully completed the duties of Commanding Officer of HS ELLI, HS EVROS and the duties of Commander Hellenic Maritime Comms HQ (COM/HMCHQ). In March 2019 promoted to Commodore. He has been honored with all the National and International Decoration and Medals for his rank.
He has an OPS/Comms Background & knowledge. His experience as a Staff Officer was gained through the posts in Hellenic National Defense Gen. Staff (HNDGS), Hellenic Fleet Command, Hellenic Navy Gen. Staff HNGS).
Moreover, Commodore Magkos HN has got international experience during his assignments both in NATO and EU staff posts. From that interaction, he gained valuable military operational experience in the field through a variety of operations, live-firing and exercises ranging from NATO force enforcement and to National territorial defense.
The most relevant was the Deputy Chairman EUMC WG in 2014. He has been involved with the coordination of all related aspects to Op. ATALANTA, EU CAP NESTOR and EU Comprehensive Approach to Somalia as well.
Cdre Magkos HN is married with Eleni and they have 2 children, Daughter and Son who they have completed their University Education.