Deputy Operation Commander Rear Admiral (LH)Guillaume FONTARENSKY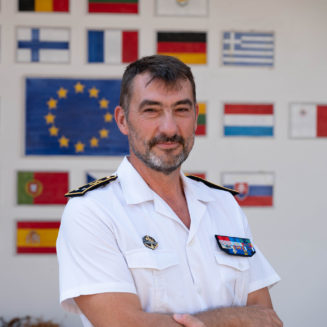 Rear-Admiral Guillaume Fontarensky was born in Toulon, France. He graduated from the French Naval Academy in 1993 and specialized as a gunnery officer and anti-surface and anti-air warfare.
He attended the War College in Paris, in 2005.
From 1993 to 2000 he held the functions of weapons officer on board frigates Drogou, Commandant Blaison, Surcouf and Lafayette. From 2001 to 2004, after a short period of time on board submarines, he extended his anti-air warfare skills to the air defence carrier group. He served first on the aircraft-carrier Charles de Gaulle to later join the anti-air destroyer Cassard. In 2009, he was assigned as the Executive Officer of the anti-submarine destroyer Montcalm.
During his career on board ships, Rear-Admiral Fontarensky was led to serve extensively in the Mediterranean Sea and the Indian Ocean. In 1993 and 1995, he contributed to former Yugoslavia maritime operations; in 1994 he took part in maritime interdiction operations off the coasts of Iraq; he contributed to non-combatants evacuation operations from Yemen in 1994; later in 1999 he was involved in the air defence of Djibouti harbour during the war between Ethiopia and Eritrea. He then took part in the seven-month deployment of the French carrier group in the Arabian Sea within the framework of the Afghanistan campaign.
Rear-Admiral Fontarensky commanded three warships. From 2000 to 2001, he assumed command of the patrol boat La Moqueuse based in Noumea, New-Caledonia, which mission is to ensure French sovereignty in the South-West Pacific. From July 2009 to July 2010, he commanded the frigate Nivôse, based in the Reunion Island. On that occasion, he participated in a four months European anti-piracy ATALANTA operation off the Somali coasts. From July 2012 to July 2014, he commanded the anti-submarine warfare destroyer Montcalm which was deployed for several months in the anti-terrorism operation ENDURING FREEDOM.
Rear-Admiral Fontarensky's ashore appointments were just as rich in accomplishments. In 2004 he was assigned as head of the anti-air and anti-surface warfare Department of Saint-Mandrier Navy Training Centre, where he shared his extensive experience and taught to a new generation of young sailors. He served also in operational centres. From 2006 to 2008, he joined the French Joint Staff as a planning officer working on the French military commitments in Afghanistan. In September 2008, he was deployed for three months to the EU Military Staff in Brussels to create a coordination group with a mission to enhance the performances of European military assets engaged in the protection of maritime traffic against piracy off Somali coasts. The creation of this group was the first step toward the launching of ATALANTA operation. From August 2010 to July 2012, Rear-Admiral Fontarensky was in charge of the handling of day to day operations in the French Naval Operations Centre for the Mediterranean Sea in Toulon, before becoming the chief of the same Centre from August 2017 to July 2019. He exercised also responsibilities in preparation of naval forces for combat. In 2014 he took head of the surface ships training department in Toulon for three years. From July 2019 to August 2022, he was deputy of the Admiral commanding French surface ships, then he served in Toulon as chief of staff of the French rapid reaction headquarters. Its purpose is to provide staffs capable to command a force at sea.
Since July 2023, Rear-Admiral Fontarensky has been appointed in Roma, as deputy commander of the EU operation IRINI.
Personal awards include the French Legion of Honour, Merit Order, Maritime Merit Order, veteran medal, gold national defence, overseas commemorative medal awarded for Middle-East, Commemorative medal, NATO and European Commemorative Medals for former Yugoslavia and European Commemorative Medal for anti-piracy operations.