Deputy Operation Commander Rear Admiral (LH)Jean J. de MUIZON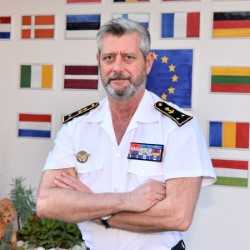 Rear Admiral Jean de Muizon joined the Naval Academy in 1984. Upon graduation and after a short overseas tour on austral patrol boat ALBATROS, he was designated for Naval Aviation.
Initially qualified in the maritime patrol branch, he took the opportunity to join carrier-based aviation and started training at the Naval Fighter School.
After carrier qualification on the ALIZE (Anti Surface and Electronic Warfare), he served in squadrons 4F and 6F on board CV FOCH and CLEMENCEAU.
From 1992 to 1995, he was almost permanently deployed to the Adriatic Sea with the French aircraft carriers group, in support of air and maritime operations related to the Former Republic of Yugoslavia crisis.
In 1997, he was appointed as commanding officer of the AEW program squadron, in charge of the acquisition of the E2C HAWKEYE for the French Navy. Upon completion of an 18 month training in the USA, including carrier qualification on-board CV 67 KENNEDY, the squadron was redeployed to France and conducted extensive flight tests and operational evaluations with the new French CVN CHARLES DE GAULLE.
In 2000, the program unit gained its full operational capability and was commissioned as squadron 4F, still under his command.
In 2001, he was assigned to the operations division at Paris Navy Headquarters, as head of the "projection" section. His responsibilities encompassed doctrine and employment of naval aviation, amphibious forces and airborne deterrence. As such, he was intensively involved in the planning of the French contributions to naval and air operations following the 9/11 terrorist attacks.
In 2002, he attended the French Staff College in Paris, graduating with a Master Degree in Defence Studies.
In 2003, he joined the French Maritime Battle Staff as Maritime Air Operation Cell Director, then as ACOS OPS for the Carrier Battle Group. He mainly planned and conducted an operational deployment to the Indian Ocean in support of air operations over Afghanistan and Operation "Enduring Freedom", the qualification of the FR Maritime Component Command as a NATO High Readiness Force Maritime HQ and a major exercise with the Second Fleet off the US east coast.
In 2005, assigned as executive officer of the Air Defence frigate CASSARD, he deployed again to the Indian Ocean with the Carrier Battle Group in support of Operation "Enduring Freedom".
In 2006, he took command of frigate NIVOSE, based in La Réunion Island, Indian Ocean, and conducted several operational deployments to the East coast of Africa in support of counterpiracy and counterterrorism operations, South East Asia and Antarctic Ocean French fishing areas.
In 2007, he joined the French Joint Operational HQ in Paris (CPCO) while European Union was launching a bridging peace keeping operation in Chad and Central Africa (EUFOR TCHAD/RCA).
As a member of the French key nucleus for European Union Operational HQ, he was fully part of the planning team.
He then spent one year as DACOS J3 "operations" and another one as ACOS J5 "plans" at the OHQ, ending his tour with a timely and successful handover of the operation to a UN Force.
In 2009, he was assigned to the Navy HQ programs division, as the aircraft carrier program manager, in charge of both the second aircraft carrier acquisition program and the midlife upgrade of the CVN CHARLES DE GAULLE.
During this assignment, he was temporarily deployed to NATO CAOC 5, as senior Navy representative, liaison to the French Carrier Strike Group and national target engagement authority (Red Card Holder), in support of NATO Operation Unified Protector in Libya.
In 2012, he was detached for one year in Bahrain, as Director Plans of the Combined Maritime Forces, a multinational coalition conducting maritime security operations in the Indian Ocean. He was also liaison officer to the US Naval Central Command/Commander 5th fleet for other planning activities.
In 2013, he joined the EU OHQ in Northwood for operation Atalanta, as head of the Future Operations branch and interlocutor for the World Food Program-Somalia.
On his return to France in 2014, he was assigned to the War College, as teacher for strategy and operations. During that tour, he was detached to CAOC Al Udeid, Qatar, as senior Navy representative and national target engagement authority for coalition Operation Inherent Resolve in Iraq and Syria.
He then joined the French Joint Operational HQ (CPCO) in 2015 for the second time, as part of the command team. His responsibilities included senior duty authority and strategic advisor for the Middle East and Indo-Pacific regions.
In 2018, he was appointed Chief of Staff of the Navy Inspection, Inspector for Naval Aviation and Head of the Navy Flight Safety Board.
His awards include Officer of the Legion of Honour and of the National Merit Order, Distinguished Air Service Medal, Combatant Cross, Golden National Defense medal with combat commendation, and numerous overseas operations awards.
Rear Admiral Jean de Muizon is father of three young adults. He is re married to Anne, a senior civil servant working at the Directorate for International Relationship and Strategy (DGRIS) at the French Ministry of the Armed forces.