Force Commander Rear AdmiralVALENTINO RINALDI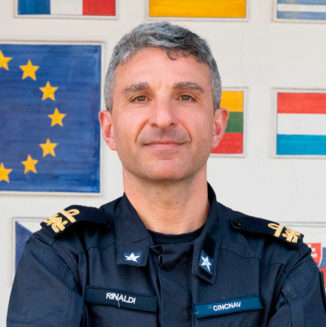 Rear Admiral (LH) Valentino Rinaldi was born in the town of Pollena Trocchia (nearby Naples) on May, 31st 1972. He joined Naval Academy in Livorno in 1990 and graduated in 1994.
During his career he served on board different units of the Italian Navy and appointed as Commanding Officer of the following ships:
·        ITS GALATEA (NINFE Class) 2003-2004
·        ITS EURO (MAESTRALE Class) 2011-2013
·        ITS ANDREA DORIA (ORIZZONTE Class) 2017-2018
From 2006 to 2011 he was assigned to the Italian Defence General Staff and from 2013 to 2017, he served at the Command-in Chief of Italian Navy Fleet. From July 2019 to September 2021 he served at the Italian Navy General Staff firstly as Head of the Direction of Maritime Forces Division and then as Head of Interministerial and Interagency Branch.
Rear Admiral (LH) Valentino RINALDI gained a degree in Naval and Maritime Sciences at the University of Pisa and in Information Technology (University of Salerno), the 2nd level Italian Master in Naval Geomatics (University of Genoa) and the 2nd Level Italian Master in Global Security Strategy (University of Turin).
He also attended the following courses:
1999 – Telecommunication, Navigation, Command and Control Officer.
2009 – Joint Staff College in Rome (12th Course).
2010 – Legal Advisor of the Armed Forces (11th Course).
2018 – Regular Session of the Defence Higher Studies' Institute (70th Course).
From September 2021 to February 2023 Admiral Rinaldi has been serving as Commander of the 3RD Naval Division, Commander of the Italian Amphibious Task Force and Deputy Commander of the Italian Maritime Component Commander. During his commitment he fulfils the following tasks:
Commander of Amphibious Task Force (CATF) for NATO Response Force (NRF) during rotation 2022 (with a stand by period of 1 year), after the achievement of NATO readiness certification on October 2021, during the major Italian navy exercise "Mare Aperto 21";
Force Commander of Task Group 425.01 during national operation "MARE SICURO" (rotation November – December 2021);
Commander of NATO Amphibious Task Force during exercise 'Cold Response-22' on March 21, the main NRF training activity, conducted in Norway's northern fjords, aimed to train and exploit NRF forces capabilities in all domain, with a specific focus on amphibious operation conducted in severe weather condition of Artic region;
Force Commander of Task Group 425.01 during 1st Rotation of the national operation "MEDITERRANEO SICURO" (rotation July – September 2022).
Major awards and decorations:
"Order of Merit" award of the Italian Republic;
"Mauriziana" Medal for long meritorious military service;
Medal of merit (Silver Medal) for long command;
Gold Cross for "Years Of Service" (25 years);
Medal of honor (Silver) for long "on board duty" (15 years);
Commemorative medal for the participation in the National Program of Research in Antarctica;
Commemorative medal for the participation in the Operation "Mare Sicuro" in Central Mediterranean Sea.
Rear Admiral (LH) RINALDI is married to his wife Silvia and they have two children Eleonora and Davide.