Force Commander CommodoreSTYLIANOS DIMOPOULOS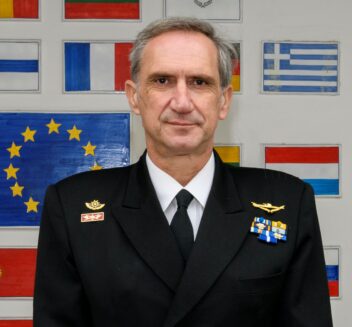 Commodore Stylianos (Stelios) A. Dimopoulos was born in Athens in 1965. He joined the Hellenic Naval Academy in 1984 and graduated in 1988.
Education – Training
He attended the following line officers' schools: Submarine Officers (1990), General Training of Junior Officers (1991-1992), Navy Communications (1992), Submarine Executive Officers (1997), Submarine Commanding Officers (2001) and Frigate Commanding Officers (2013). He is a graduate of the Navy Staff Officers School (2000), Supreme Joint Staff War College (2004-2005) and the National Defense College (2017). He also attended the Electronic Warfare School (1989), Commanding Officers Schools for Submarines type 214 in Germany (2006, 2007), Open Source Intelligence Course and Intelligence Course at NATO School Oberammergau (2011, 2012), NATO-EU / BICES Courses (2011) at NATO BICES Agency (Brussels) and the Common Security and Defense Policy (2012) of EU foundation training at Brussels. He was also trained in free and hooded ascent from submarine in England (Portsmouth, 2007) and in Helo Dunker (Escape from sinking helicopter, Hellenic Navy Helicopter School, 2018).
Additionally, he is a PRINCE 2 (APMG International, Brussels, 2012) Foundation Registered Knowledgeable and holds certificates of attendance of the programs 'Developing as a Leader' from Harvard Business Publishing (2008-2009) as well as 'Project Management' (2008) and 'Human Resources and Financial Management' (2009) from City University of Seattle in cooperation with Hellenic Naval Academy. He also holds MSc in European Studies for Business and Organization Executives from the Athens University of Economics and Business (2014-2016).
Sea service
He served at DDG KANARIS (1988-1989) and DE AETOS (1989-1990) as Protocol and Communication Assistant Officer, at SM PONTOS (1990-1991, 1992-1997) as Communication and Torpedo Officer, Senior Officer and Director of Operations, at SM POSEIDON (1997-2000) as Executive Officer and at FFG SPETSAI (2000-2001) as Communication and Training Officer. He assumed the duties of Commanding Officer at SM AMFITRITI (2002-2004) and at FFG THEMISTOKLES (2013-2014).
Staff and other service
He served as Deputy Director of Weapons and Communications as well as Director of Operations in Hellenic Submarine Command (2005-2006), Director of Studies in the Submarine School (2006) and Commander in both Submarine Squadrons (2004, 2006). He additionally served (2006-2010) in the Skaramaga Naval Detachment (Hellenic Shipyards) supervising the submarine type 214 project as the first Commanding Officer at SM PIPINOS and as Governmental Quality Assurance Representative (of the General Directorate of Defense Investments and Armaments-GDDIA), followed by his assignment as Program Manager (2009-2010) of the submarine type 214 project, double-hated with the duties of Deputy Commanding Officer of the Detachment.
As Staff Officer he served at SHAPE (EU OHQ) as Intelligence Staff Officer at Operation 'Althea' (2010-2013), at Hellenic National Defense General Staff as Section Head of Military Personnel and as Human Resources Director (2014-2016) and at Hellenic Navy General Staff as Director of Personnel Planning and Command Organization (2016-2017). He assumed the duties of Commander at Hellenic Submarine Command from March 2017 up to July 2018. He served as Deputy Military Representative in the NATO Military Committee in NATO HQ, Brussels, from August 2018 till August 2020. From August 2020 up to March 2021 he assumed the duties of COS at Hellenic Fleet HQ. As of March 2021 he served as Commandant of the Aegean Naval Command. From April to September 2022 he was Chief of Staff at Operation Headquarters (OHQ) of Operation EUNAVFOR MED IRINI before subsequently becoming Force Commander of the Operation.
Promotions
Ensign: 1988
Lieutenant Junior Grade: 1991
Lieutenant: 1995
Lieutenant Commander: 2000
Commander: 2006
Captain: 2014
Commodore: 2020
He is awarded with medals and decorations of:
Grand Commander of the Order of Phoenix
Commander of the Order of Honor
Military merit B class
Good Command A class
Staff Officer Α Class
Leadership of a great formation/unit C class
Common Security and Defense Policy Service
He speaks English fluently (he holds a Michigan Certificate of Proficiency in English, level C2, 2013) and has got a good command of French language (State Certificate of Language Proficiency Β2, 2018). He is married and has three sons. He is keen on sailing and loves jogging, bicycling and hunting.