Force Commander Commodore Michail D. Magkos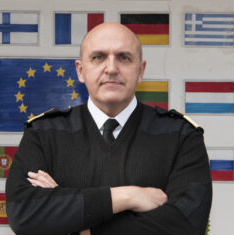 Commodore Michail D. Magkos Hellenic Navy is a native of Athens.  He graduated from Hellenic Naval Academy in 1987 as Ensign. He has been promoted to Commodore (OF 6) in 2019. During his 38 years career in the Hellenic Navy & Armed Forces he has served on board Hellenic Fleet's Ships gained valuable experience both in maritime and operational domains as CIS and OPS Officer. His experience is expanded also as Director in the Hellenic Navy General Staff and the Hellenic National Defence General Staff. Moreover, he has cooperated with various actors including not only the military but the civilian-diplomatic sector as well in the field of EU CSDP and in CIS domain. He has served in various International posts both in NATO and EU.
He successfully completed the duties of Commanding Officer of HS ELLI (Kortenaer class) and the duties of Commander of Hellenic Navy Maritime Comms Hq. His recent post was the OHQ's Chief Of Staff for OPERATION IRINI EUNAVFOR MED in Rome.
He is a graduate of Hellenic National Defence Academy in 2014. His experience of EU CSDP gained in several national and multi-national HQs, as well. In 2014, Cdre Magkos concluded successfully the duties of Deputy Chairman EUMC WG during the EL Presidency of the European Council. He is well-informed of the EU Maritime Strategy and of the NATO-EU Comprehensive Approach .
Cdre Michail D. Magkos HN has been awarded with all medals, decorations and commendations stipulated for an officer of his rank.
He is married with Eleni and they have one daughter and one son.