SHARED AWARENESS AND DE-CONFLICTION IN THE MEDITERRANEAN 2022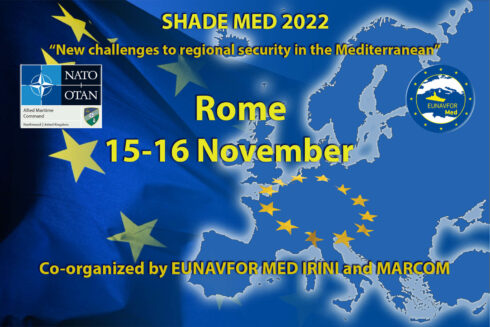 Introduction
The SHADE MED conference is a clear example of the EU's willingness to effectively address the Mediterranean security debate. It is an open forum where everybody can express opinions in an open and constructive manner to demonstrate that freedom of expression,  frank and open dialogue are fundamental values of the entire EU community.
SHADE MED is a forum where representatives from different nations and organizations interested in the Mediterranean area can meet to reach common aims. Far more than a simple international meeting, SHADE MED Conference represents a unique opportunity to meet, to exchange good practices and to share information and experiences among  different actors involved in the Mediterranean area.
The 11th edition of SHADE MED Conference, whose theme will be "New Challenges to Regional Security in the Mediterranean", will take place in-person on 15th and 16th November 2022. As last year, the event will be co-organized together with the NATO Maritime Command (MARCOM).
Main Themes
The Conference will deal with the vital interest of EU and NATO in maintaining safe, open and peaceful maritime routes and it is going to point out the improvement of Maritime Situational Awareness and regional maritime security.
The situation in the Mediterranean area is very hectic and it requires the utmost attention from all. For this reason, this 11th Edition is focused on the following topics: The Libya's political stalemate and its repercussions in the Sahel, Maritime Security Operations in a time of conflict, food, energy and climate change interdependence between Europe and North Africa after war in Ukraine.
More information will be reported in the Agenda.