Operation Commander Rear Admiral (UH)Stefano Turchetto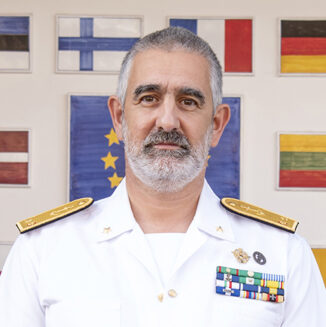 Rear Admiral Stefano TURCHETTO was born in Treviso March 19th, 1966 and he attended the Naval Academy in Livorno (Tuscany) from 1985 to 1989 graduating as Midshipman.
After a short training on board Destroyer DUILIO, he attended the Anti-Submarine Warfare (ASW) course at the Naval Air Training Center in Taranto and, from April 1990, he was assigned on board Corvette DRIADE as ASW Officer.
From September 1990, as Lieutenant Junior Grade, he was assigned to the Naval Academy in Livorno as cadets' Supervising Officer.
From October 1991 to August 1992, he was assigned on board Frigate ALPINO as ASW Officer and thereafter he attended, both, the ASW Higher Level and specialization courses, achieving full expertise in this sector.
From 1993 to 1996, he was appointed as Head of ASW Division on board Frigate LIBECCIO.
In 1997, he attended the Staff Course at the Maritime Warfare Institute in Livorno and the Naval Command School in Augusta.
From August 1997 to August 1998, he was Commanding Officer of Patrol Boat LIBRA, based in MESSINA and employed in fishing vigilance in the Strait of Sicily.
From September 1998 to December 2000, he was appointed as Head of ASW Division and,later, as Head of Operations Department on board Cruiser VITTORIO VENETO. During this period, in January 1999, he was promoted Lieutenant Commander.
From 2000 to 2003, he was cadets' Class Commander in Naval Academy, leading the first class including female personnel in the Institute's history.
He was promoted Commander January 1st, 2003 and attended the 6th Joint High Level Staff Course at the Defense High Studies Center in Rome, being assigned to the Center in 2004 as a tutor for the following courses until 2006.
From August 2006 to September 2007, he was Commanding Officer of Frigate LIBECCIO.
In the three years period 2007 – 2010 he was Liaison Officer at the German Ministry of Defense in BERLIN.
He was promoted Captain July 1st, 2009.
During the two years period 2010 – 2012 he was appointed as Head of the Training and Regulations Division at the Italian Fleet Headquarter in Rome.
From October 2012 to September 2013, he was Commanding Officer of Destroyer ANDREA DORIA, employed in the main national exercises and in support of the Italian UNIFIL troops deployed in Lebanon as part of UNIFIL mission.
From October 2013 to October 2016, he was the Naval Academy Executive Officer (Second in Command).
From October 2016 to July 2018, he was Head of the Italian Joint Operations Headquarter Commander's Office.
He was promoted Rear Admiral (LH) January 1st, 2018.
From September 2018 to June 2019, he was Force Commander of EUNAVFORMED – Operation SOPHIA.
During the last two years, from September 2019, he has been First Naval Division Commander, based in La Spezia, and during his assignment he has been four different times "Operazione Mare Sicuro" Tactical Commander, operating in Central Mediterranean Sea.
Rear Admiral TURCHETTO graduated cum laude in Naval and Maritime Sciences from University of Pisa (Tuscany). He was awarded the following decorations:
NATO Medal (Sharp Guard – Maritime Monitor – Maritime Guard);
Commemorative Cross for peace mission in Bosnia – IFOR;
Commemorative Cross for mission in Somalia;
Gold Cross for length of service;
Medal of honor for length in navigation 3rd degree (10 years)
Ehrenkreuz der Bundeswehr in silver;
Bronze Medal of merit for length of Command;
Mauriziana Medal (50 years military service);
Knight of the Order of Merit of the Italian Republic;
Mare Sicuro Medal with silver star.
Rear Admiral TURCHETTO is married to Mrs. Rossella and has two children, Francesco and
Viola.