04 Jun 2020
WELCOME TO THE HS SPETSAI
Operation Irini: welcome to the Greek frigate Spetsai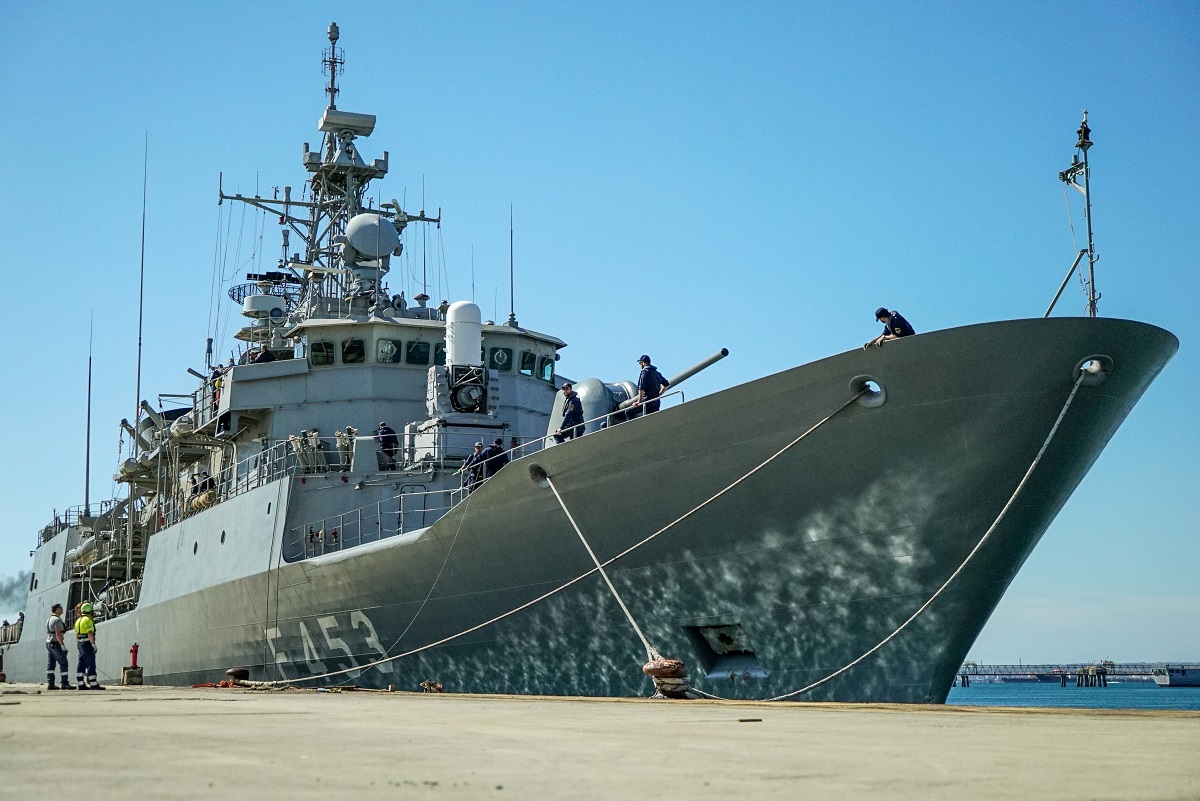 Rome – HS Spetsai, a frigate of the Greek Navy, sets sail with Operation EUNAVFOR MED Irini. Spetsai is a MEKO200HN class frigate and has on board a boarding team specially trained to conduct Maritime Interdiction Operations (MIO) as well as a Sikorsky S-70B Aegean Hawk helicopter.
The vessel will patrol the designated Area of Operation in the central Mediterranean Sea, together with three aircraft, deployed by Germany, Luxembourg and Poland.
More than 20 EU countries have joined Operation Irini with staff and assets. Operation Irini also counts on the support of satellite images provided by the European Union Satellite Centre (SatCen).
"I thank Greece and the other EU countries that have contributed to the Operation with staff and assets – says the Operation Commander, Rear Admiral Fabio Agostini – Even though the mission has started recently, it has already produced results in the collection of information on arms trafficking, shared with the UN panel of experts, and in a deterrent effect on oil smuggling too."
HELLENIC FRIGATE SPETSAI – GENERAL CHARACTERISTICS
Length: 117 m
Beam: 14.8 m
Draft: 6 m
Displacement: 3.350 tns
Speed: 32 kts
Propulsive Power: CODOG (2 Gas Turbine LM2500 & 2 Diesel MTU20V)
HS SPETSAI (F-453) is a MEKO200HN class Frigate, the second vessel of her class in service of the Hellenic Navy. She was built in Skaramagkas Hellenic Shipyards and commissioned in 1996. The vessel's name is derived from the island of Spetses, which contributed to the National Independence War of 1821 with its formidable flotilla.
HS SPETSAI is a multiple purpose Frigate. She can operate in a multi-threat environment and is capable of fulfilling all required tasks in the framework of EUNAVFOR MED Operation Irini. The ship has taken part in numerous multi-national and NATO operations, exercises and training activities.
The ship can accommodate a single Sikorsky S-70B Aegean Hawk helicopter.