07 Mar 2021
Operation IRINI inspected a Union of the Comoros-flagged vessel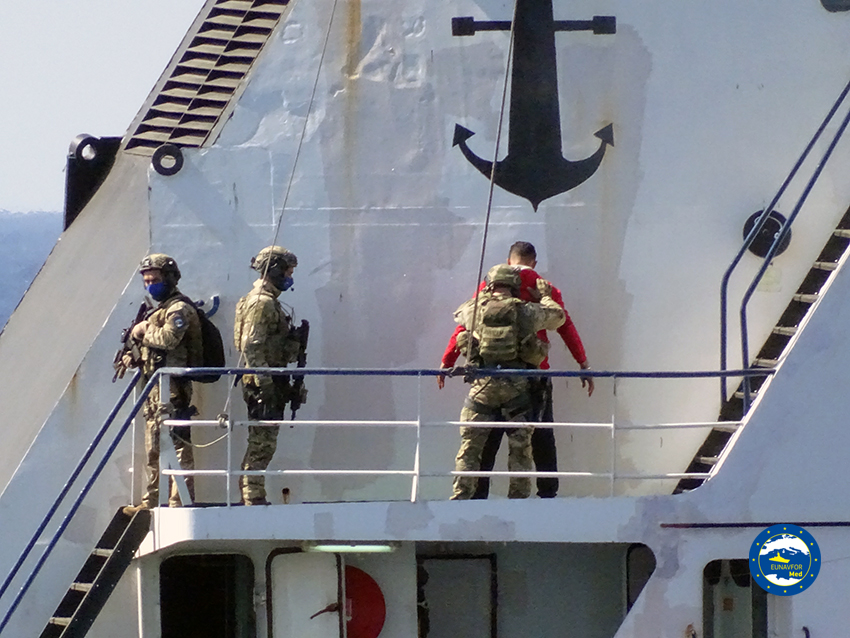 On March 6 Operation IRINI boarded and inspected the cooperative NEW MOON, a Union of the Comoros-flagged general cargo vessel, applying the United Nation Security Council's Resolutions 2292 (2016) and 2526 (2020) – concerning the arms embargo on Libya.
The vessel departed from Alexandria (Egypt) on 4 March 2021 and was directed to Benghazi (Libya).
The team of the flagship HS AEGEAN boarded the vessel in international waters, approximately 47 nautical miles North East of the port of Tobruk (Libya).
The boarding team checked the available documentation on board and inspected the cargo.
Nothing suspicious was found and the vessel was declared free to proceed on its way.
The procedure went smoothly and the boarding took place in a collaborative atmosphere for both the master and the crew.
All recommended COVID-19 precautions were observed during the activity.
This is the seventh boarding activity since the start of the Operation.
This activity in international waters is part of the Operation's mandate, which first aim is to implement arms embargo on Libya.
In 11 months the Operation has investigated more than 2200 vessels, it has conducted 88 Friendly Approaches, 7 inspections, 1 diversion.