25 Oct 2020
Operation IRINI inspected a Merchant Vessel in application of the relevant United Nation Security Council's resolutions on arms embargo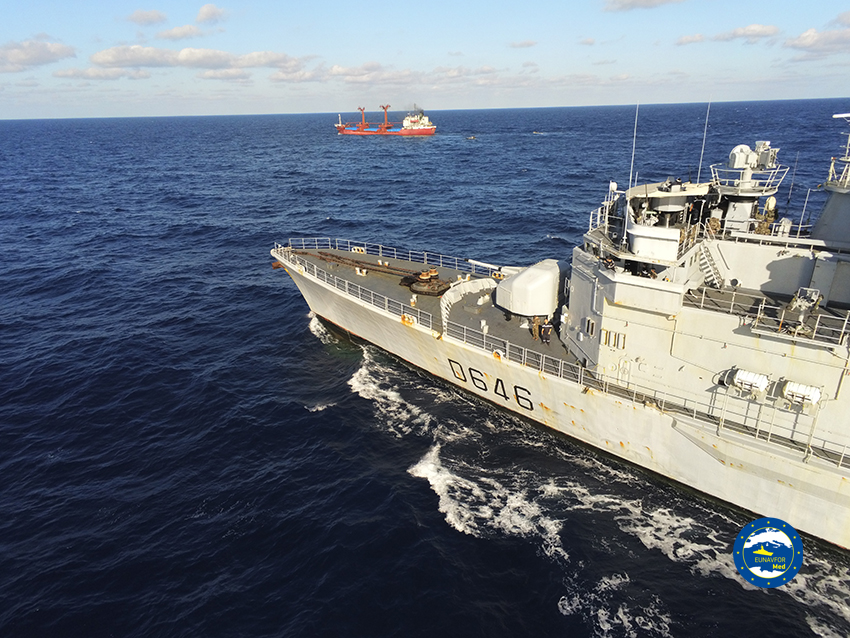 Yesterday, Operation IRINI boarded and inspected the cooperative Merchant Vessel (MV) CAPT ABEDA in application of the United Nation Security Council's Resolutions 2292 (2016) and  2526 (2020) concerning the arms embargo on Libya.
The MV CAPT AVEDA is a Syrian flagged General Cargo vessel departed from Akdeniz in the Southeast of Turkey on 21 October and directed to Misurata, Libya. The boarding team of the French Frigate Latouche-Tréville, acting in the framework of Operation EUNAVFOR MED IRINI, boarded the vessel in international waters, 150 nautical miles North West of Tobruk, Libya.
The boarding team examined the available documentation on board and inspected the cargo composed by cement in big bags.
Nothing suspicious was found and the French boarding team returned to its unit allowing the vessel to proceed on its way.
The procedure went smoothly and the boarding took place in a collaborative atmosphere of both the master and the crew. All recommended COVID-19 precautions were observed during the boarding.
Operation Irini is a part of the EU's commitment to support the Berlin process, restore stability in Libya and bring peace to its population.
Facts and figures
From May 4, when the Operation started its activity at sea, Irini assets have patrolled the central Mediterranean, performed more than 1000 hailings, 35 friendly approaches (consensual visits on board of merchant vessels) and 3 inspections (boardings) of merchant vessels to verify their cargo. The Operation has monitored the activities in more than 16 ports and oil facilities.
The operation has also monitored 25 airports and landing strips, and 120 flights possibly carrying military related cargos back and forth to Libya.
Operation Irini contributed to the UN arms embargo and the prevention of oil smuggling with 16 special reports to the United Nations Panel of Experts concerning both warring parties in Libya, regardless the actors involved in an impartial and balance manner. These results were possible also thanks to the European Union Satellite Centre (EU SATCEN), which provided about 300 sets of satellite images at Irini's requests.
NOTES
Operation Irini (named after the Greek word for "peace") was planned in a very short timeframe and launched on 31 March, following a decision by the Council of the European Union. The main task is the implementation of the arms embargo in Libya under the relevant UN Security Council Resolutions. The Operation also has the secondary tasks of monitoring illegal oil trafficking from Libya, contributing to the disruption of the human smuggling business model and contributing to the training of Libyan Coast Guard and Navy. The Operation Commander is the Italian Admiral Fabio Agostini.