24 Dec 2020
Merry Christmas from all the women and men of the International staff engaged in Operation EUNAVFORMED IRINI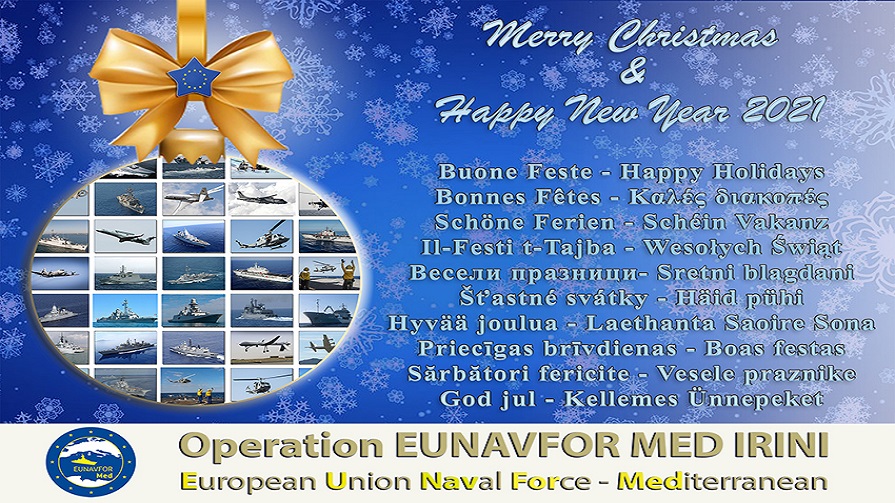 Merry Christmas from all the women and men of the International staff engaged in Operation EUNAVFORMED IRINI at all levels, on the ground, at sea and in the air.
A heartfelt "wish" from Admiral Fabio AGOSTINI, Commander of the Operation.
"First of all, I want to thank all the personnel of Operation EUNAVFORMED IRINI  for what they have been done so far, away from their home countries and families. The constant commitment and tireless devotion of all staff members are a credit to their nations and remain a crucial element for the achievement of our results, even in the year to come. I deeply commend the never ending dedication of IRINI's people. Their efforts, enthusiasm and  positive attitude are key for the accomplishment of IRINI's tasks, with the final objective to offer a viable opportunity for the future to the Libyan people whilst granting security for Europe. I wish a Merry Christmas to all of you and your beloved families: all together we will be able to overcome the current pandemic and strengthen stability and security in the Central Mediterranean on behalf of the European Union.
On behalf of all IRINI personnel, the soldiers, sailors, airmen and military police, I also want to wish all the Mediterranean and European people a very Merry Christmas, Happy Holidays and Happy 2021 in the name of peace, #irini4peace ! "
#EUirini #Irini4libya