22 Apr 2022
Save the date: Thursday, 28th of April, 4.30 pm WEBINAR Jointly organized by EU Special Representative for the Sahel and EUNAVFOR MED IRINI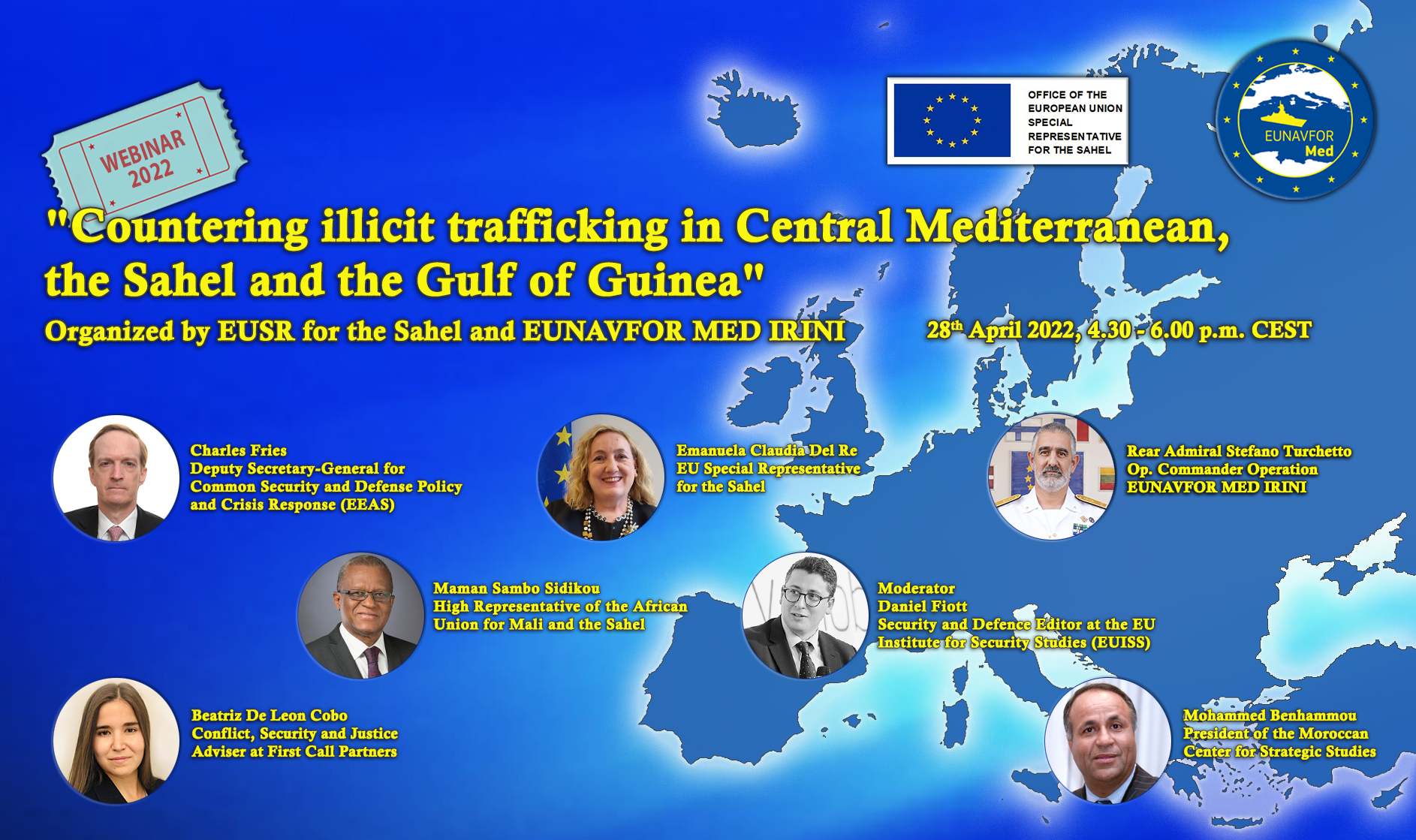 Safe and secure seas and oceans are fundamentally important for European trade and economy. As around 90% of global goods are traded via maritime routes, freedom of navigation, security, sustainability of supply channels and respect for international law are crucial for the EU.
The maritime domain is increasingly contested between global and regional powers and marked by areas where security or the rule of law is lacking, thus having a direct impact on our sea lines of communication. The EU is promoting maritime security and rule of law on the high seas through naval operations, international cooperation and dialogue, as well as capacity building under the Maritime Security Strategy. Maritime security refers to the protection of maritime territories from challenges including illegal arms, drugs and human trafficking, environmental pollution, piracy, and actions obstructing freedom of navigation.
In the security and defence field, the EU's common security and defence policy (CSDP), particularly its missions and operations abroad, are the most visible manifestation of its role as a maritime actor. Some of the root causes of the described trends in maritime security, have their origin in Europe's Southern neighbourhood.
In recent years, North Africa has taken on growing importance for our common foreign policy. Due to its strategic geographical position, linking sub-Saharan Africa and the Mediterranean basin, the Sahel region today is of utmost importance.
The Sahel is facing several challenges: armed conflicts, dramatic climate change, illicit trafficking of people, arms and drugs, lack of educational opportunities and vast unemployment. Furthermore, the regime shift in Libya and the uprising ones in Mali, Chad and Burkina Faso, lead to the deterioration of the security situation in the region. Without a stabilized Libya, there will be no stability in Sahel and without stability in the Sahel, Libya will not be stabilized. Europe's commitment to supporting the stability of Libya and the Sahel as well, as part of the wider framework of strengthening Europe's strategic partnership with African countries, leads to a partnership founded on the values of equality in political dialogue, shared development and oriented to confront the African challenges.
The webinar on the 28th of April at 4.30 pm, jointly organized by the EU Special Representative for the Sahel and EUNAVFOR MED IRINI, intends to offer a framework for the analysis of the current Mediterranean-Sahel scenario with implications for the stabilization of the broader region, tackling the issue of illicit trafficking.
Moderator:
– Daniel Fiott – Security and Defence Editor at the EU Institute for Security Studies (EUISS)
Speakers:
– Charles Fries – Deputy Secretary-General for Common Security and Defense Policy and Crisis Response (EEAS)
– Emanuela Claudia Del Re – EU Special Representative for the Sahel
– Rear Admiral Stefano Turchetto – Operation Commander EUNAVFOR MED IRINI
– Maman Sambo Sidikou – High Representative of the African Union for Mali and the Sahel
– Mohammed Benhammou – President of the Moroccan Center for Strategic Studies
– Beatriz De Leon Cobo – Conflict, Security and Justice Adviser at First Call Partners