20 Nov 2020
Tripoli: the Admiral Fabio Agostini met the Prime Minister Al-Sarraj and other GNA's Ministers and officials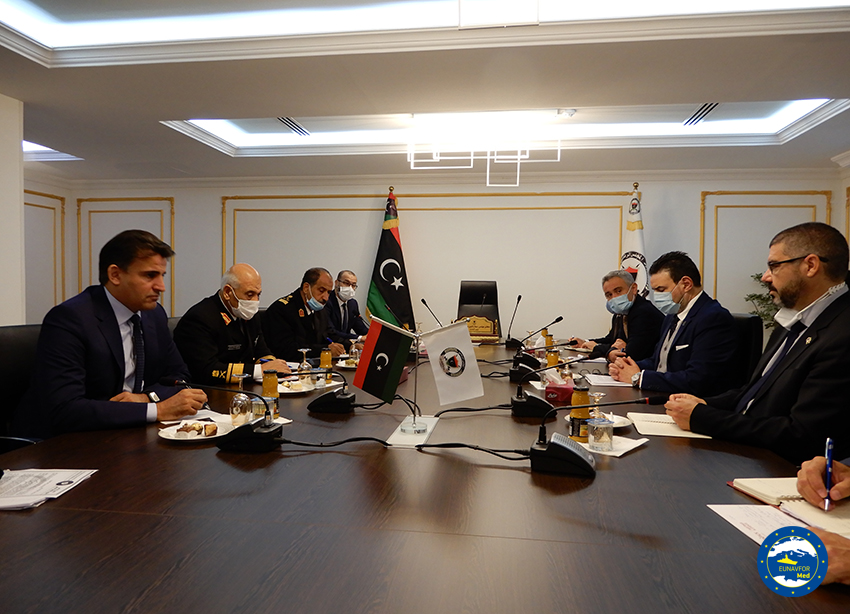 The Rear Admiral Fabio Agostini, together with the European Ambassador to Libya, José Antonio Sabadell, paid a visit to Tripoli for official meetings from 16 to 18 November. Agostini, Operation Commander of Irini, met Fayez Al-Sarraj, the Libyan Prime Minister of GNA, the Libyan Defense Minister Salahedin Al Namroush, the Libyan Minister of Interior, Fathi Bashagha, the Minister of Foreign Affairs, Mohamed Syala, and the Libyan Special Committee (LSC – appointed by the Libyan MoD specifically to deal with Operation Irini aspects).
During the meetings, Admiral Agostini presented the mandate, role and legal framework of Operation Irini, underlining its impartiality towards the warring parties in Libya through the evidence of the results achieved to date. In echoing Ambassador Sabadel, Admiral Agostini also highlighted the fact that Operation Irini is the only international actor that is implementing the UN arms embargo on Libya in full support of the outcomes of the Berlin Peace Process. The delegation explained that the aim of operation Irini is to stem any kind of illicit arms trafficking perpetrated on the sea, in the air and on the ground – regardless the perpetrators – with the objective to stop the arms flow and pave the way for effective diplomacy that will lead to stability, peace and prosperity for the Libyan people.
In this context, Admiral Agostini also encouraged the Libyan counterparts to resume the training activity in support of the Libyan Coast guard and Navy, in order to further enhance its capabilities, necessary to ensure full ownership of security in the maritime area of responsibility, including self-managing of all SOLAS events.
The training of the LCG&N provided by IRINI will decisively increase the security of the waters opposite Libya and reassure the International Shipping Community in their sailing, contributing to the restart of the Libyan economy.
In such a complex moment, it is necessary that all the actors involved in the process to give a stable future to Libya put in place energy and vision for a real change.
The visit to Tripoli was overall positive and the contacts with the GNA leadership and the LSC were established in a frank and open atmosphere.