28 Nov 2020
SHADE MED 2020: the conclusions of the virtual forum and the challenges for 2021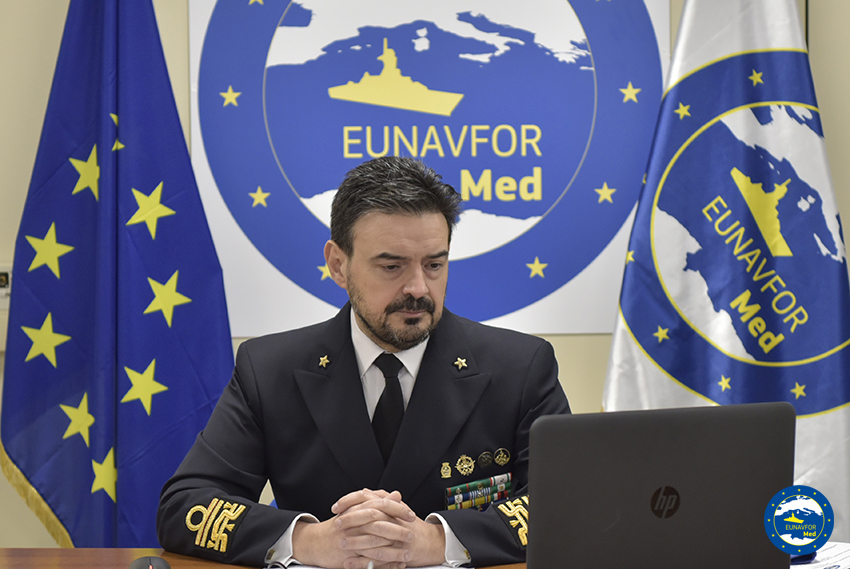 The ninth edition of the Conference SHADE MED 2020 – "Shared Awareness and De-confliction for the Mediterranean Sea" ended yesterday afternoon: the first from the inception of Operation IRINI. The forum was organized by the Operational Headquarters of Operation EUNAVFOR MED IRINI located in Rome.
For two intense days of work, the conference – in virtual mode for the first time due to Covid-19 restrictions – hosted high-level speakers to draw a picture of the complex situation that Mediterranean area is experiencing.
"Now is the time to avoid fragmentation and instability by working on cooperation. A new season is opening in which we must work tirelessly to resolve the differences still in progress. Everything that emerged from the interventions and working groups of these two days of Conference testifies once again to the great Mediterranean potential of this region between three continents, with an extraordinary wealth of stories and experiences that is our blue road and which represents our post-pandemic future", said the Rear Admiral Fabio Agostini, Operation Commander of EUNAVFOR MED IRINI in the closing notes of Shade Med 2020.
With 250 connected participants from 30 nations and 50 organizations involved, the Shade Med 2020 represented a unique opportunity to meet (albeit virtually), exchange good practices, information and experiences between the many and different actors involved: from the armed forces to the coast guards of the states bordering the Mediterranean, from international institutions such as United Nations, NATO and the European Union passing through NGOs to the representatives of the governments that are most interested in the Mediterranean question.
As General Claudio Graziano, Chairman of the EU Military Committee, said during the Conference: "IRINI acts as a security provider with an impartial commitment to the region's stability. Irini has achieved considerable results even during and despite the pandemic, proving its ability to go through crisis and discontinuity".
"Operation IRINI continue to have a fundamental role to implement UN Arms embargo on Libya. Violations of the embargo must stop – underlined Stefanie Turco Williams, UNSMIL mission Head and Acting Special Representative of the Secretary-General for Libya – In Libya, only shared responsibilities can lead to shared security to save the Country from brutal conflict. Libyans deserve support and not interference", said the diplomat.
Mr. Josep Borrell, High Representative of the Union for Foreign Affairs and Security Policy, in his speech spoke of the valuable role played by IRINI: "Thanks for this meeting, is a concrete illustration of our commitment to de-escalate the conflict and to pave the way for a sustainable peace agreement".
The Shade Med 2020 edition can count in particular on the financial support of Belgium and Greece.
The appointment for SHADE MED 2021 is set for next year, when we will take stock of the results and good practices undertaken starting from this year's forum.