29 Apr 2021
Road to Shade Med, second webinar on "The new geopolitical challenges in an evolving Mediterranean"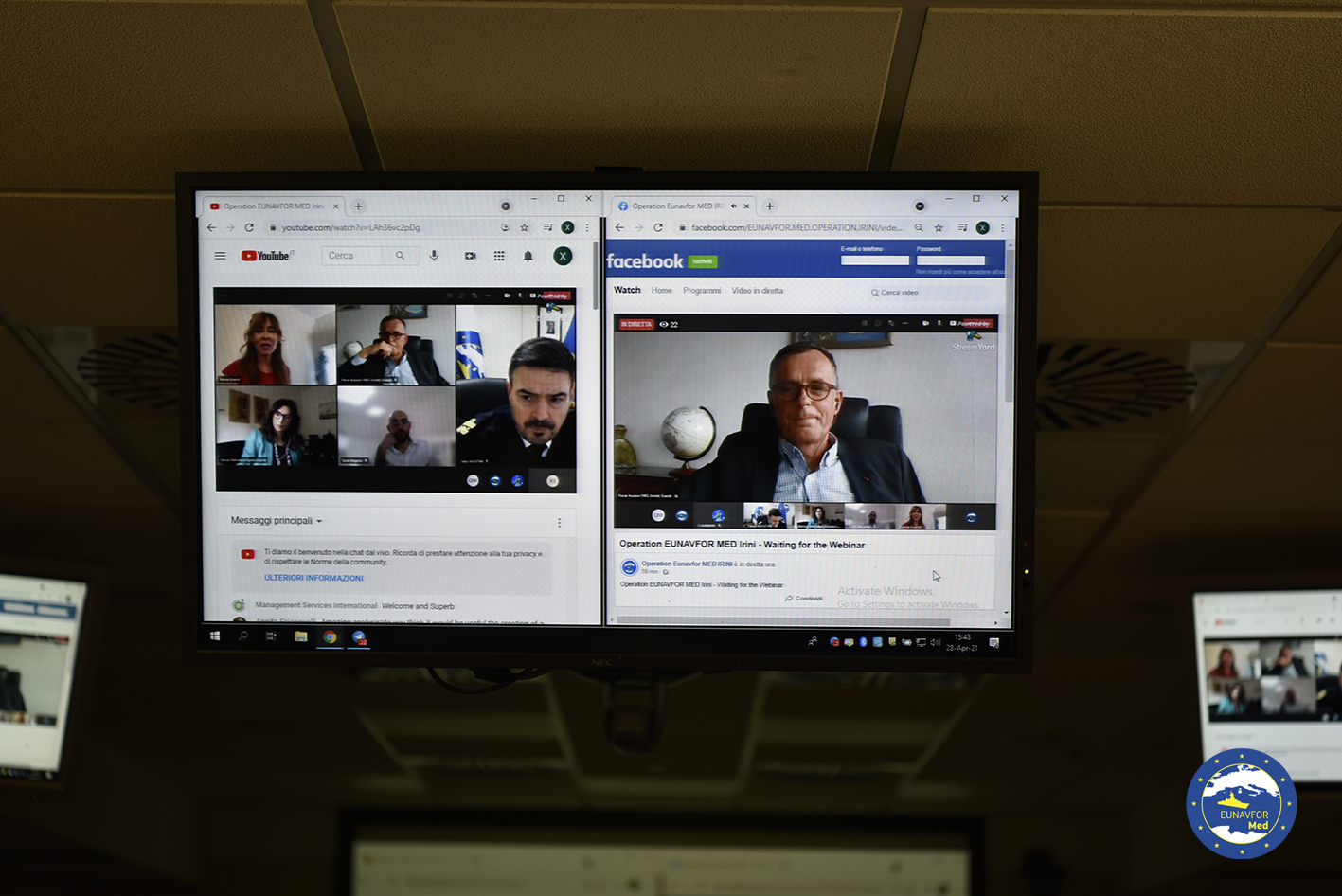 The Road to Shade Med 2021 (Shared Awareness and Deconfliction in the Mediterranean), the annual conference on the Mediterranean organised by the Operation EunavforMed Irini, continued with another online event. After the last 19 April meeting dedicated to European policy in Libya, the second webinar, organised in cooperation with the Mediterranean Foundation of Strategic Studies (Fmes) in Toulon and the University of Rome – La Sapienza (Department of Social Sciences and Economics), dealt with "New geopolitical challenges in an evolving Mediterranean".
The seminar opened with a speech by Admiral Fabio Agostini, Operation Commander of Irini, followed by three experts' speeches: Tarek Megerisi, researcher at the European Council on Foreign Relations (Ecfr); Alessia Melcangi, professor at the University of Rome – La Sapienza (Department of Social Sciences and Economics) and non-resident Senior Fellow at the Atlantic Council; and Vice Admiral Pascal Ausseur, president of the Mediterranean Foundation of Strategic Studies. The discussion was moderated by Alessia Ardesi, journalist and expert in cooperation and international relations.
Opening the conference, Rear Admiral Agostini stated that "EunavforMed Irini works day by day to guarantee stability and security in the central Mediterranean Sea remaining equidistant from all the involved parties".
Subsequently, Alessia Melcangi pointed that "The Mediterranean current scenario tells us that there is a need for determined multilateral political and international diplomatic action able to rebuild the regional security architecture and mechanisms for the de-escalation of crises and to strengthen confidence-building measures".
Focusing on libyan situation, Tarek Megerisi pointed out that "Libya's civil war is continuing; the belligerents are just changing how they fight. Libyans and their backers are scrambling today to gain power, contracts or leverage so they can influence tomorrow in their favour. This is not a recipe for stability"
On the other hand, given the situation, Vice Admiral Pascal Ausseur stressed the fact that "The European Union must show its willingness and determination if it doesn't want to become a prey for all the geopolitical carnivores which roams the Mediterranean".
Finally, Alessia Ardesi summed up the debate. And among the conclusions, there was also room for a question: "Maritime influence and regional powers. Trade, security, migrations. New geopolitical challenges. Infrastructure, investments, energy and seaways for communication and transport. But also culture, heritage, civilization and a new interreligious dialogue. Mare Nostrum is back: a new pivot to the Mediterranean Sea?"
For more information about the Road to Shade Med follow this link
In cooperation with: