18 Jan 2021
Operation Irini and Frontex to expand cooperation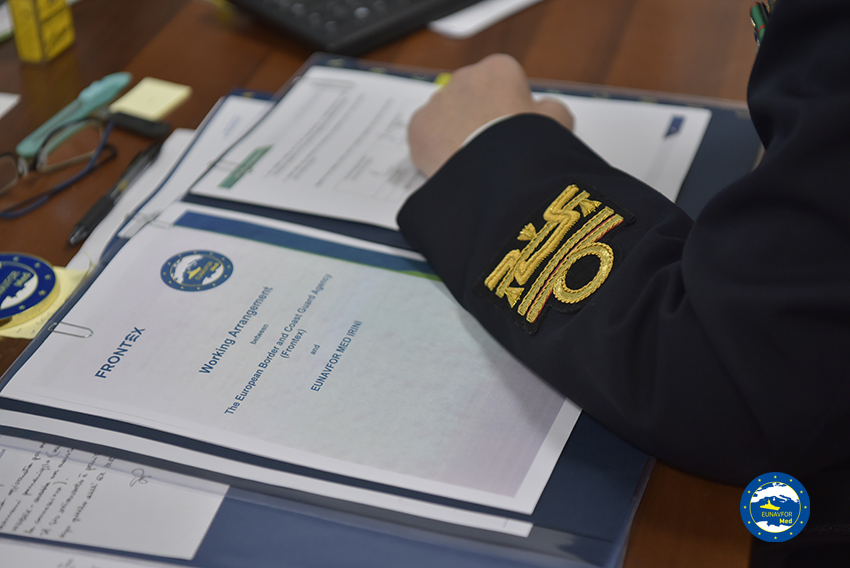 On Friday the 15th, Operation EUNAVFORMED Irini and Frontex, the European Border and Coast Guard Agency, signed a working arrangement via VTC, due to Covid-19 restrictions. The virtual ceremony was held by Admiral Fabio Agostini, Operation Irini Commander, and Mr Fabrice Leggeri, Frontex Executive Director, and attended by Director-General for Migration and Home Affair, Monique Pariat.
Through this arrangement, the two organizations will support each other with a primary focus on cross-border crime and in developing situational awareness in any possible manner, including by a coordinated use of satellite images. The cooperation represents an important tool in particular for the exchange of information regarding merchant vessels suspected to violate the arms embargo on Libya, helping to collect the necessary reasonable grounds required to conduct Maritime Interdiction Operations and inspections on board suspect vessels. Operation IRINI and FRONTEX will also be able to coordinate their mutual capacity building efforts with a view of promoting European integrated border management standards. This aspect could become increasingly important also in the contest of the training of the Libyan Navy and Coast Guard.
Furthermore, this cooperation will include exchange of analyses, reports and best practices, deployment of experts and tactical coordination for the use and rationalisation of the respective assets.
"The cooperation among our organization, started in 2015, remains vital and an extremely valuable instrument at the disposal of the European Union as a whole in its effort to support the Libyan Peace process, launched in Berlin by the International Community in January last year,"  said Admiral Fabio Agostini, Irini Operation Commander, during his speech.
"Operation IRINI is a valuable operational partner for us. Frontex will provide information that will help tackle security challenges in the Central Mediterranean" said Frontex Director,  Fabrice Leggeri.
The roots of this agreement come from Operation Sophia. Now, since the activation of Operation EUNAVFOR MED IRINI, the implementation of arms embargo on Libya has become the primary task and this cooperation remains a valuable tool  at the disposal of the European Union as a whole in its effort to integrate internal and external security instruments.
The strong nexus between internal and external security can only be achieved by improving linkages between CSDP and Justice and Home Affairs agencies. The cooperation between Operation IRINI and FRONTEX goes straight in this direction, satisfying the will of the European Union to implement its Global Strategy and integrated approach, representing a virtuous model also for other theatres.