16 Mar 2021
Operation Irini signs a working arrangement with the United Nations Office on Drugs and Crime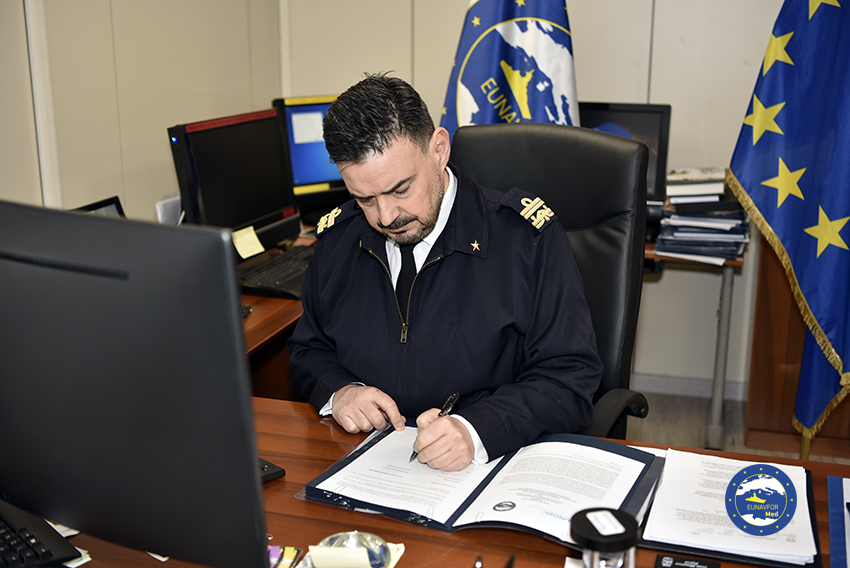 On March 15, Operation EUNAVFOR MED IRINI and the United Nations Office on Drugs and Crime signed a working arrangement via VTC, due to Covid-19 restrictions. The virtual ceremony was held by Admiral Fabio Agostini, Operation Irini Commander, and Ghada Waly, UNODC Executive Director.
"The cooperation between our organizations is vital and an extremely valuable instrument at the disposal of the International Community as a whole in its effort to support the Libyan Peace process, launched in Berlin in January last year." Admiral Agostini said during the virtual ceremony.
"UNODC welcomes this partnership with EUNAVFOR MED Operation Irini and looks forward to bringing the Working Arrangement into practice in an impactful way that benefits Libya and the broader region," said Ms. Waly. "Our programmes against maritime crime, firearms trafficking, human trafficking and smuggling of migrants will engage with EUNAVFOR MED at the working level to join efforts to combat UN sanctions violations and migrant smuggling in the Mediterranean."
With this working arrangement, there is now the opportunity to exploit the cooperation between the two organizations on the fields of the exchange of information and training. It envisages mutual support in order to identify and analyse criminal activities related to illicit arms trafficking, illicit export of petroleum from Libya as well as human smuggling and trafficking. The cooperation will therefore enhance even more the role as main international stakeholders engaged in enforcing the respect of the United Nation Security Council resolutions. Furthermore, this cooperation includes also, pursuant to relevant mandates, contributing to the development of capacities and training of the Libyan Navy and Coast Guard in border control and law enforcement tasks at sea.