21 Dec 2020
Chief of the General Staff of the Slovenian Armed Forces in Italy visited the Operation Irini's Headquarters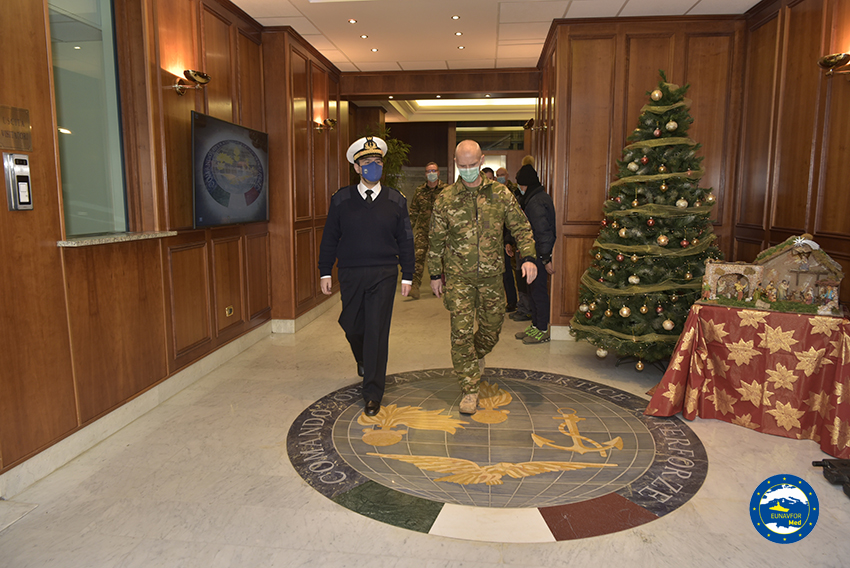 Rome – The Major General Robert Glavas, Chief of General Staff of the Slovenian Armed Forces, has visited today Operation Irini's headquarters within the premises of the Italian Joint Operation Headquarters (IT JOH) in Centocelle (Rome). Welcomed by the Commander of IT JOH, General Luciano Portolano, and Irini's Operation Commander, Rear Admiral Fabio Agostini, Major General Robert Glavas and his delegation received a detailed update about the IRINI's activities, results and the main critical issues still in place.
The Chief of General Staff of the Slovenian Armed Forces had the opportunity to meet the main elements of the OHQ's international staff (Deputy Commander, Chief of Staff and all Assistants Chief of Staff) and could directly witness how the operational activities are planned, directed and monitored, visiting the EUNAVFOR MED Joint Operation Centre.
Major General Robert Glavas commended the results achieved by the operation, thanked Admiral Agostini for the professional and balance approach to the difficult Operation in a very complex international environment and spent a few moments to salute the Slovenia contingent deployed within the OHQ.
The visit is another tangible proof of the importance addressed by Member States to Operation IRINI.