02 Sep 2021
Road to Shade Med 2021, webinar on "New Directions in Maritime Security"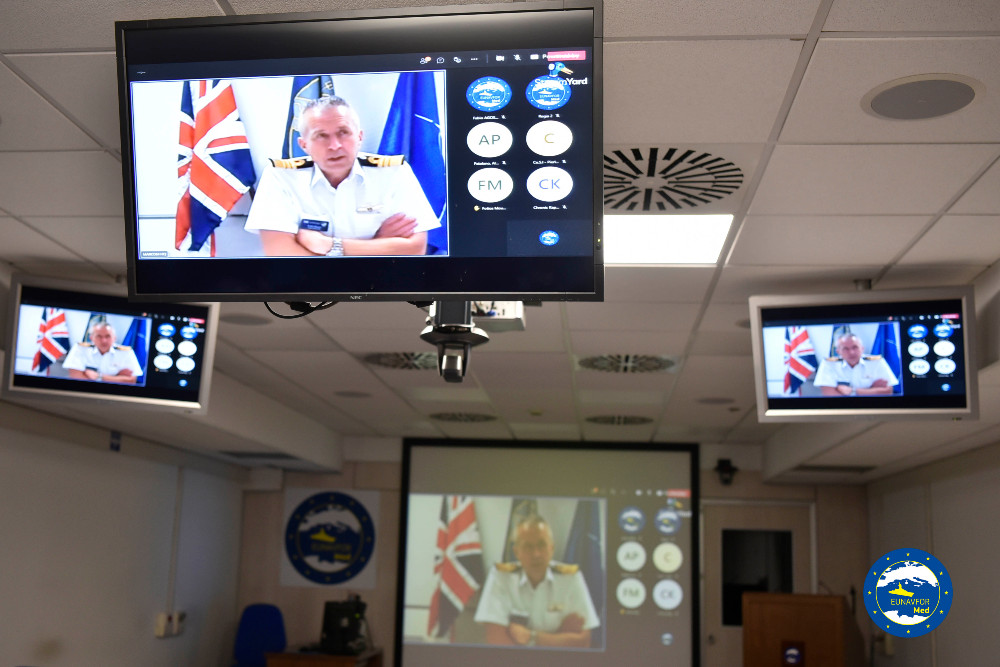 The Road to Shade Med 2021, the conference organized by Operation EunavforMed Irini , goes on without a break. The webinar held on 1st September, organized by MARCOM with the collaboration of Operation EunavforMed Irini and entitled "New Directions in Maritime Security", had as objective to explore all new maritime security challenges in the mediterranean basin that go beyond – but also impact – conventional conflict, criminal trafficking, migration and energy development.
In fact, climate change has threatened the region with major economic and social disruption from risk to water supply and extremes of weather. The need to decarbonize shipping and embrace a post-petrol economy will have substantial impacts on the wealth and possibly political stability of petrochemical-producing states. The shift towards rare earth elements as the core of military power may also have implications for global competition and naval power. Cyber technologies have been extensively used to impact and disrupt the freedom of navigation and the freedom of commerce, from GPS jamming and spoofing, cyber-driven physical damage to complex systems, to disinformation and ransomware. These challenges overlay the use of the seas for trafficking and other illicit activities.
The webinar, moderated by MARCOM political advisor Prof. James Bergeron, proposed to address all these issues and was opened by the Commander of Operation Irini Rear Admiral Fabio Agostini, who said that "the European Union and the Atlantic Alliance share many interests and objectives in the southern flank of Europe and must intensify cooperation, but to do so it is necessary to overcome the current political stalemate". An opinion shared by MARCOM Commander VADM Keith Blount who, referring to Operation Sea Guardian, explained that "it takes place in the Mediterranean Sea, alongside other operations such as Irini, active in the same maritime space. That's why sharing awareness and deconfliction activity is important".
The speaker line-up was particularly large and qualified. In particular, Dr. Fotios Moustakis (Director of Centre for Seapower and Security Studies, Plymouth University), Mr. Chronis Kapalidis (Information Security Forum and Warwick University), Prof. Alessio Patalano (Professor of War and Strategy in East Asia, King's College London) and Mr. Pierluigi Barberini (Security and Defence analyst at Ce.S.I.) shared their knowledge and points of view in this panel, exploring the new dynamics described above and considering how key stakeholders in maritime security can best respond.
For more information about the Road to Shade Med, follow this link.