08 Jul 2021
Road to Shade Med 2021, webinar on "Migration and illicit trafficking in the Mediterranean"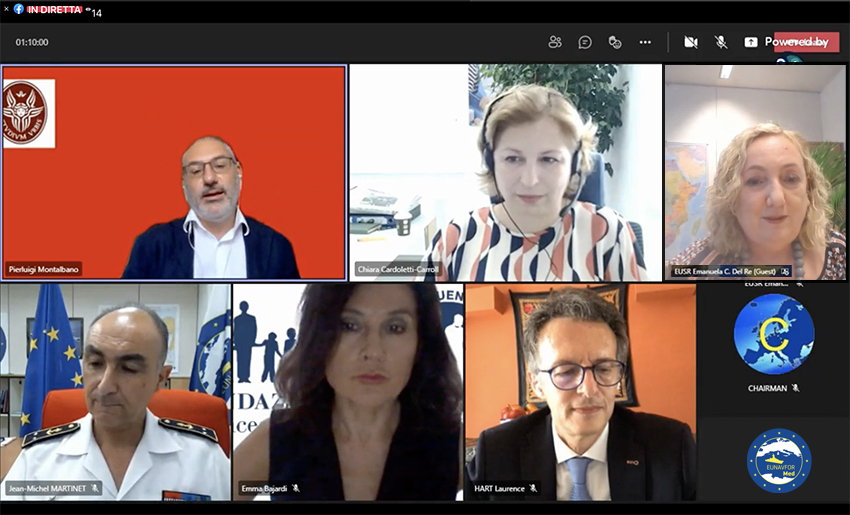 The Road to Shade Med 2021 (Shared Awareness and Deconfliction in the Mediterranean), the annual conference organised by the Operation EunavforMed Irini, continued with its sixth online webinar, staged in collaboration with La Sapienza University of Rome.
The main topic of discussion was "Migration and Illicit Trafficking in the Mediterranean", and the aim was to stimulate dialectical confrontation among the distinguished speakers about growing conflicts, socio-economic instability, ethnic-religious discrimination, human rights violations and gender-based violence that are shaking the Mediterranean, causing an increase in organized crime, illicit trafficking and migration flows.
Opening the conference proceedings, professor Pierluigi Montalbano, Director of the Master in Migration and Development at University La Sapienza of Rome, said that "here are common goals to be achieved in the Mediterranean. Cooperation and awareness are fundamental".
Especially when it comes to illicit affairs, as Deputy Commander of Operation Irini Rear Admiral Jean-Michel Martinet stressed: "the enduring proliferation of illicit activities, including human and arms trafficking, oil smuggling and terrorism highlights the need for continued maritime security presence in the Central Mediterranean".
On her first public appearance after being appointed as UE Special Representative for Sahel, Emanuela Del Re pointed out that "the security of the entire region depends on the Sahel, which is the southern border of Europe. As regards the central theme of migration, we are working with individual countries concerned with international organizations as well as with Italy and other European countries to build and integrated system that is useful for the future and does not only look at emergencies".
Emergencies that are becoming the norm in the region, as highlighted by Director, Coordination Office for the Mediterranean-Chief of Mission for Italy and Malta Representative for the Holy See, IOM, Laurence Hart: "migration flows in the Med are always in the spotlight. But this is a humanitarian emergency and not an emergency in terms of numbers. In the current context, there is a lack of an effective EU patrol system and of a safe and predictable disembarkation mechanism".
And while the Project Manager Fondazione Francesca Rava – N.P.H. Italia Onlus (partner of Operation Irini) Emma Bajardi presented an overview of the training activities carried out in collaboration with Eunavformed in the past years and introduced the next training projects, the Chief of Mission for Italy, the Holy See and San Marino – UNHCR Chiara Cardoletti effectively summarised the issue of the day by saying that "people forced to flee in search of safety may become victims of human trafficking. Access to international protection is a lifeline".
For more information about the Road to Shade Med, follow this link