17 Jun 2021
Road to Shade Med 2021, webinar on "Health Diplomacy in the Mediterranean Region"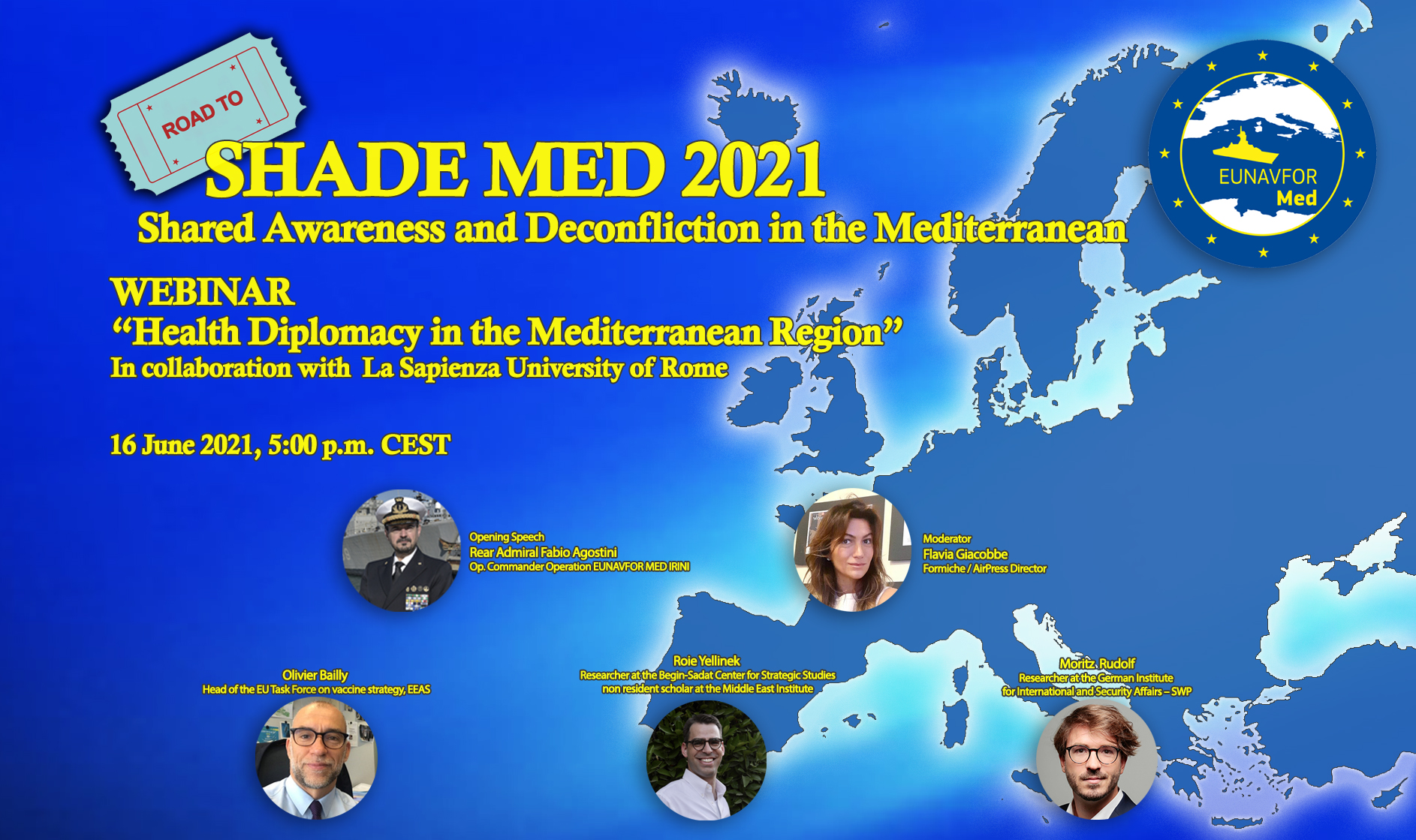 The Road to Shade Med 2021 (Shared Awareness and Deconfliction in the Mediterranean), the annual conference on the Mediterranean organised by the Operation EunavforMed Irini, is continuing rapidly on his way. In the fifth webinar, staged in collaboration with La Sapienza University of Rome, the main topic of discussion was "Health Diplomacy in the Mediterranean Region".
The aim of the webinar was to stimulate the discussion among the distinguished speakers about vaccine diplomacy, or the use of vaccine supplies as a tool of soft power projection, as vaccine and health supplies are interacting with pre-existing politics and foreign policy priorities.
Opening the conference proceedings, the Operation Commander of EunavFor Med Operation Irini, Rear Admiral Fabio Agostini, said that "The COVID-19 pandemic has seen the wide use of the so called "health and vaccine diplomacy", with some countries using aid supplies, masks and vaccines to strengthen regional ties and to enhance their own power and global status".
A concept also shared by the moderator of the webinar, Formiche and Airpress director Flavia Giacobbe, who made it clear that "Russian and Chinese vaccine diplomacies will be a strategic factor for the political dimension of the Mediterranean region. Europe and the US should participate as protagonists in this new, important game".
In particular, as the researcher at the German Institute for International and Security Affairs Moritz Rudolf explained, "China's health diplomacy relies primarily on streamlined international propaganda, strategic deliveries and the connection of health diplomacy with the promise of post-pandemic economic recovery".
In such an articulated context, as the researcher at the Begin-Sadat Center for Strategic Studies Roie Yellinek warned, "The EU and the US have been concentrating on their own people, leaving the battle over health diplomacy to China and Russia. But it's not too late". Also in view of the fact that, as the Head of EU Task Force on Vaccine Strategy Olivier Bailly explained that "European Union committed to donate more than 100 million doses to fragile countries via COVAX. We are not engaged in trading vaccines against influence: we consider sharing a moral duty. The Southern Neighbourhood needs full attention".
In summary, the speakers agreed that some countries have sought the possibility of strengthening their influence in the Middle East and North Africa (MENA) region with a series of high profile health agreements and Europe, through the multilateral initiative COVAX, is well positioned to lead the field in this marathon and could strengthen bilateral initiatives and coordination with the new US administration.
For more information about the Road to Shade Med, follow this link