26 May 2021
Road to Shade Med 2021, fourth webinar on "A strategic compass for a Mediterranean maritime security"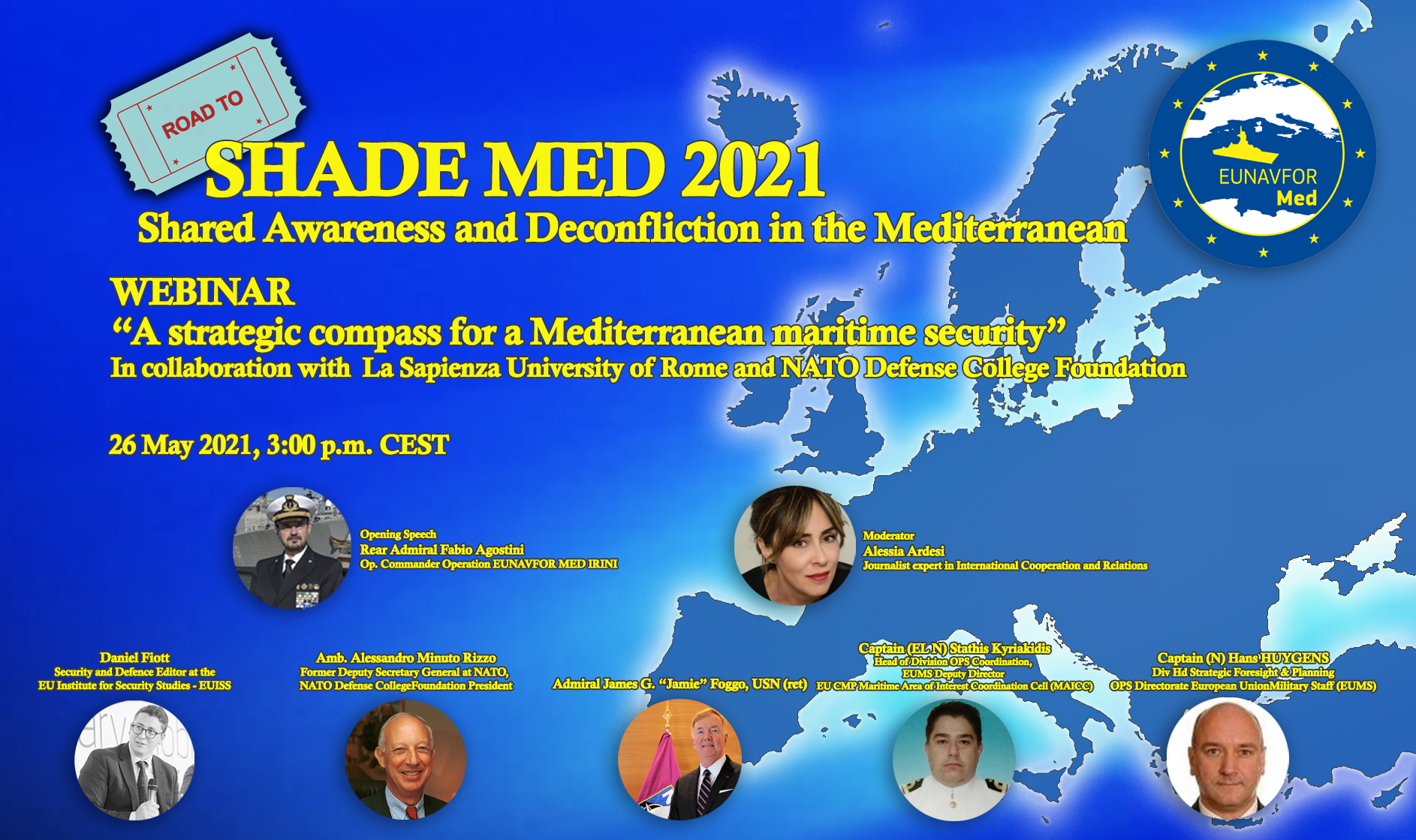 The Road to Shade Med 2021 (Shared Awareness and Deconfliction in the Mediterranean), the annual conference on the Mediterranean organised by the Operation EunavforMed Irini, is moving ahead rapidly. In the fourth webinar, staged in collaboration with La Sapienza University of Rome and NATO Defense College Foundation, the main topic of discussion was "A strategic compass for a Mediterranean maritime security".
Opening the conference proceedings, the Operation Commander of Eunavfor Med Operation Irini, Rear Admiral Fabio Agostini, said that "The changing geopolitical threat landscape is already mobilising EU governments and crisis management today and in the future will be more intense. Strategic vacuums, technological shifts, hybrid threats, climate change and geopolitical competition will make crisis management more challenging". An overall picture also shared by webinar moderator Alessia Ardesi, who pointed out that "a combined EU/NATO strategic effort is strongly needed if we want to foster growth and ensure lasting peace all across the area".
An area which, as Admiral James G. Foggo summarised well, has undergone a strategic evolution in the last period: "Thirty years ago we were in the middle of two blocks. Today the situation is much more jagged, with many actors with interests in the Mediterranean. I am thinking for example of the return of Russia and the advent of China. But there is also terrorism and instability in North Africa, as well as the migrant issue from Libya. The Navy therefore assumes, if possible, an even more important role than it did then".
With this scenario in mind, it is important to emphasise, as Security and Defence Editor at the EUISS (EU Institute for Security Studies) Daniel Fiott did, that "The EU must continue to be a credible maritime security provider in the Mediterranean."
To do this, there is probably a need for closer collaboration with NATO, as pointed out by Ambassador Alessandro Minuto-Rizzo. Who nevertheless warned: "To improve NATO-EU cooperation, one should not forget the differences between the two organisations and think about some kind of division of work in which hard security is entrusted to NATO's expertise and soft security and operations to the EU. The combination of these two tasks has not been reached yet and should thus be set as a goal".
Finally, while Captain Stathis Kyriakidis (EUMS) outlined the project MAICC of a maritime communication network for the exchange of strategies and information between different players, Captain Hans Huygens (EUMS) well summarised the concept behind the discussion: "Strategic compass helps defining what EU wants to achieve and could help building a security and defence culture".
For more information about the Road to Shade Med follow this link
In cooperation with: