19 Apr 2021
Road to Shade Med 2021, first webinar on "The European Common Security and Defence Policy in Libya"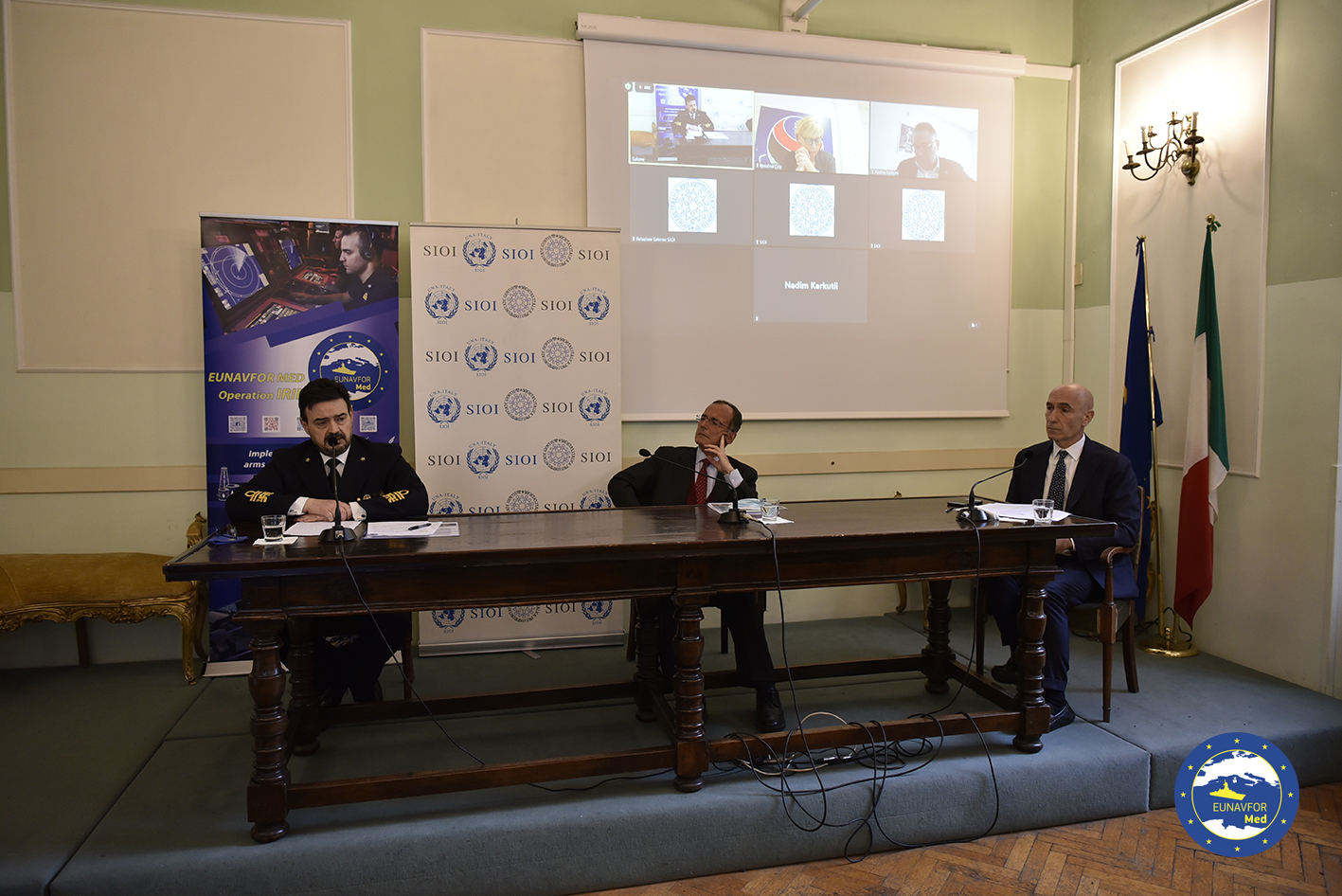 The Road to Shade Med 2021 (Shared Awareness and Deconfliction in the Mediterranean) officially started on April 19th, with the first webinar in cooperation with SIOI (Società Italiana per l'Organizzazione Internazionale).
The conference, entitled "The European Common Security and Defence Policy in Libya", was opened by the SIOI President, Franco Frattini, and attended by Operation Commander of Eunavfor Med Irini, Rear Admiral Fabio Agostini, together with the Head of Mission EUBAM Libya, Natalina Cea, and the Deputy Head of EU Delegation in Libya, Nadim Karkutli.
The debate was moderated by the Adjunct Professor at Luiss Business School Alberto Castelvecchi, who explained that "we need more common Security and Defence into Europe, and more Europe into common Security and Defence". From this perspective, President Frattini said that "Irini and EUBAM Missions are more needed than ever, in coordination and cooperation, for Mediterranean and Libya stability".
One of the main instruments capable of helping to achieve these results, as Admiral Agostini explained, is precisely the Eunavfor Med Mission: "Operation IRINI is the only international actor that is implementing the UN arms embargo on Libya and has proved to be effective, balanced and impartial". Without forgetting that, as Natalina Cea well summarised, "in this new era of Libyan hope the EUBAM Mission works side by side with the Government of National Unity to reunify the nation's internal security institutions, in turn helping to restore a sovereign and democratic state". The European Union is working in cooperation with the United Nations for the stabilisation of Libya, as finally stressed by Nadim Karkutli, Deputy Head of EU Delegation in Libya: "More than one year after the Berlin Conference on Libya, diplomacy has eventually gained the upper hand. EU support to UN efforts has helped to reunify government and parliament in Libya. EU will now support Libya to hold elections on 24 December and on reconciliation, governance, services to the population and the fight against Covid19".
Road to Shade Med 2021 will continue with another webinar, scheduled for 28 April and entitled "The New Geopolitical Challenges in an evolving Mediterranean", in collaboration with Mediterranean Foundation For Strategic Studies – La Sapienza University of Rome.
For more information about the Road to Shade Med follow this link
In cooperation with: