09 Feb 2021
The President of the Defence Commission of the Italian Chamber of Deputies, the Honourable Gianluca Rizzo, visits IRINI's Headquarters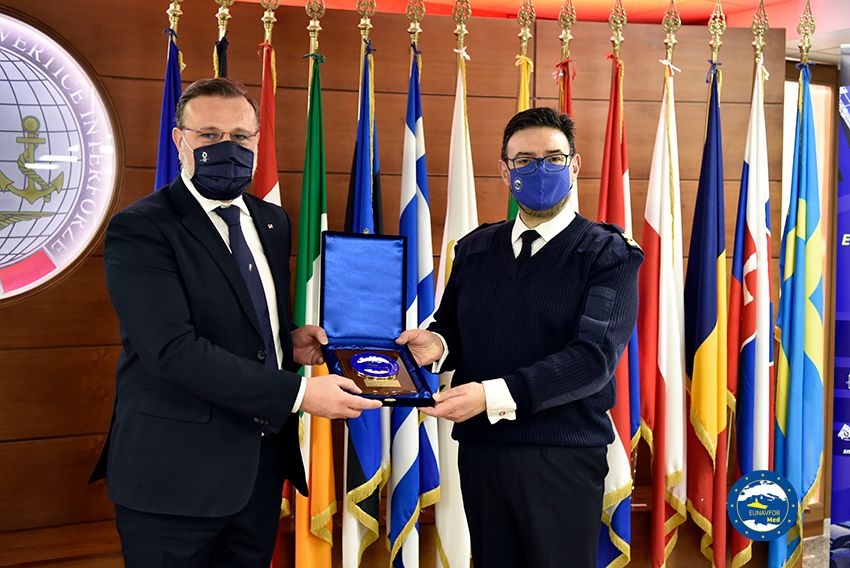 Rome – The President of the Defence Commission of the Italian Chamber of Deputies, the Honourable Gianluca Rizzo, has visited Operation EUNAVFOR MED IRINI's Headquarters located in Rome within the premises of the Italian Joint Operations Centre.
After an office call with the Commander of the Italian Joint Operation Headquarters, General Luciano Portolano, the Honourable Rizzo was welcomed by IRINI's Operation Commander, Admiral Fabio Agostini. The visit came after the hearing of Admiral Agostini in front of Foreign Affairs and Defence Joint Commissions of the Italian Parliament, held on the 28th of January.
IRINI's Operation Commander, Admiral Agostini, briefed Hon. Rizzo on the latest facts and figures of the mission. Over a period of 10 months, more than 1700 vessels were investigated. IRINI's assets conducted 6 off-shore inspections, one diversion and 67 friendly approaches.
"The meeting with Admiral Agostini allowed me to confirm and even expand what he had already so clearly explained to us in the hearing" said Hon. Rizzo "We must reiterate our appreciation for the work done by the Commander of the mission."
"Your presence here underlines the interest of Italy in our mission, but I want to stress that IRINI is an EU Operation with more than 20 participating countries. All the results reflect the balance and impartial posture of the Operation and were achieved thanks to excellent teamwork" said Admiral Agostini.