04 Jun 2021
Operation Irini: UN Security Council renews the authorisation for inspections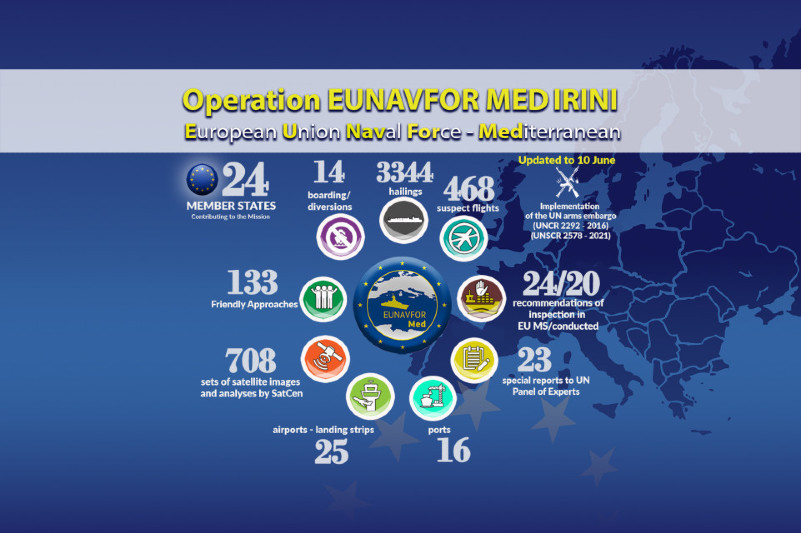 The UN Security Council renewed the authorisation for inspections by Operation EUNAVFOR MED IRINI for one more year. With the vote on Thursday, the UN Security Council extended/prolonged the Resolution 2292 of 2016 which allows offshore inspections and port diversions of vessels suspected of breaches of the UN arms embargo on Libya.
This is an important step as the resolution represents the basis of the core task of Operation EUNAVFOR MED IRINI. It shows the will of the International Community to preserve the legal framework aimed at preventing the illicit trafficking of arms to and from Libya in the common effort to bring peace and stability to the country.
In renewing the Resolution, the UN Security Council implicitly recognises the importance of the work carried out by Operation EUNAVFOR MED IRINI, being the only international actor that implements such Resolution, in an effective, impartial and balanced manner.
Since its launching on 31 March 2020, Operation EUNAVFOR MED IRINI has investigated 3,344 merchant vessels through request of information via radio calls, carried out 133 visits on ships with Masters' consent (the so-called friendly approaches) and conducted 14 boardings/inspections on suspected vessels.
Unfortunately, in 37 cases, such friendly approach were denied by the vessels' Masters for various reasons, including COVID-related issues, possible delays and national authorities policy, while in 6 cases IRINI could not proceed to board and inspect suspect vessels due to the flag state denial.
All inspections or friendly approaches are always carried out in accordance with the UN Security Council Resolutions framework and in respect of the international law.
Moreover, all COVID-19 preventive measures are always implemented and respected during these activities that in no way can prejudge the nature of activities of the vessels that has been visited or inspected.
Operation EUNAVFOR MED IRINI has also monitored 468 suspicious flights, 25 airports (and landing strips) and 16 ports (and oil terminals).
The main outcomes of all the activities carried out by IRINI, with the key support of the EU Satellite Centre (SATCEN), have been submitted to the relevant UN bodies through 23 special reports and written reports related to any boarding/inspection (including those denied).
Furthermore, thanks to the cooperation with EUROPOL, IRINI has recommended inspections of suspect vessels in EU Member States ports in 26 occasions.