20 Dec 2020
Operation Irini signed the letter of intent with the OSCE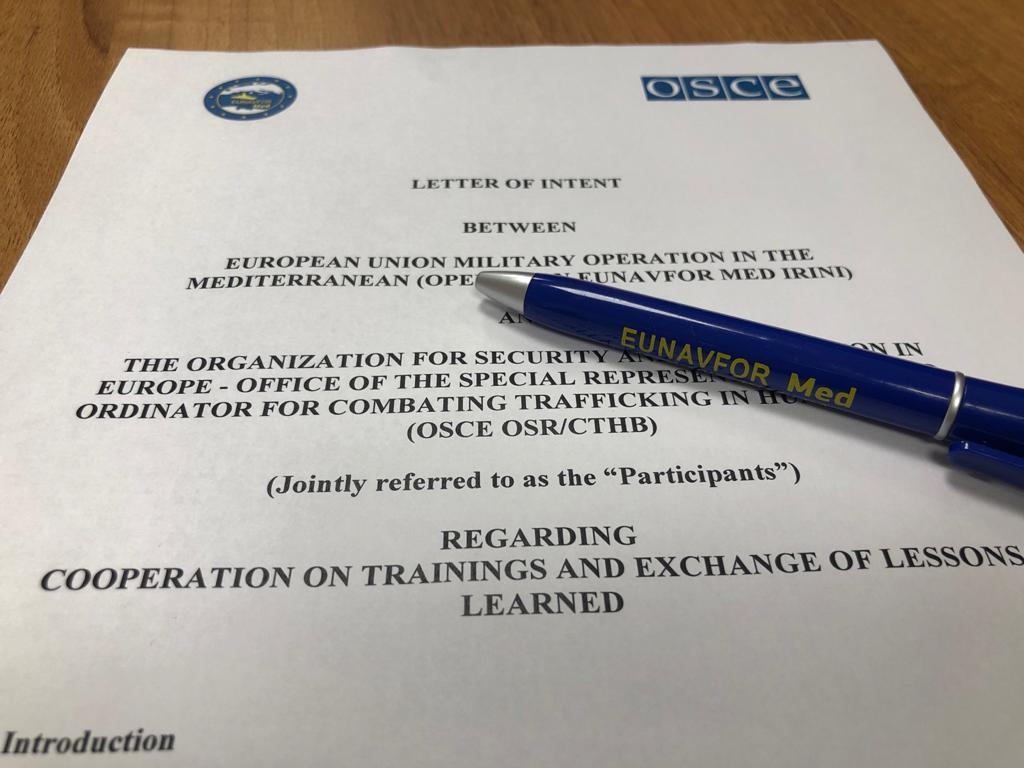 On 11 December 2020, Operation Irini and the Office of the Special Representative and Co-Ordinator for Combating Trafficking in Human Beings of OSCE (Organization for Security and Co-operation in Europe) have finalised an agreement through a Letter of Intent within the framework of Cooperation on Trainings and exchange of Lessons Learned.
The aim of the cooperation includes OSCE participation and contribution to training courses provided by IRINI and the organization of meetings for the exchange of information regarding experiences, best practices and lessons learned in the pursuit of their respective mandates.
The cooperation is the natural follow-up of the previously existing cooperation between OSCE and EUNAVFOR MED Operation Sophia.
NOTES
Operation IRINI  (named after the Greek word for "peace") was planned in a very short timeframe and launched on 31 March, following a decision by the Council of the European Union. The main task is the implementation of the arms embargo in Libya under the relevant UN Security Council Resolutions. The Operation also has the secondary tasks of monitoring illegal oil trafficking from Libya, contributing to the disruption of the human smuggling business model and contributing to the training of Libyan Coast Guard and Navy.
OSCE has a comprehensive approach to security that encompasses politico-military, economic and environmental, and human aspects. It therefore addresses a wide range of security-related concerns, including arms control, confidence- and security-building measures, human rights, national minorities, democratization, policing strategies, counter-terrorism and economic and environmental activities. All 57 participating States enjoy equal status, and decisions are taken by consensus on a politically, but not legally binding basis.