03 Mar 2021
The Chief of Staff of French Navy visits Operation Irini's Headquarters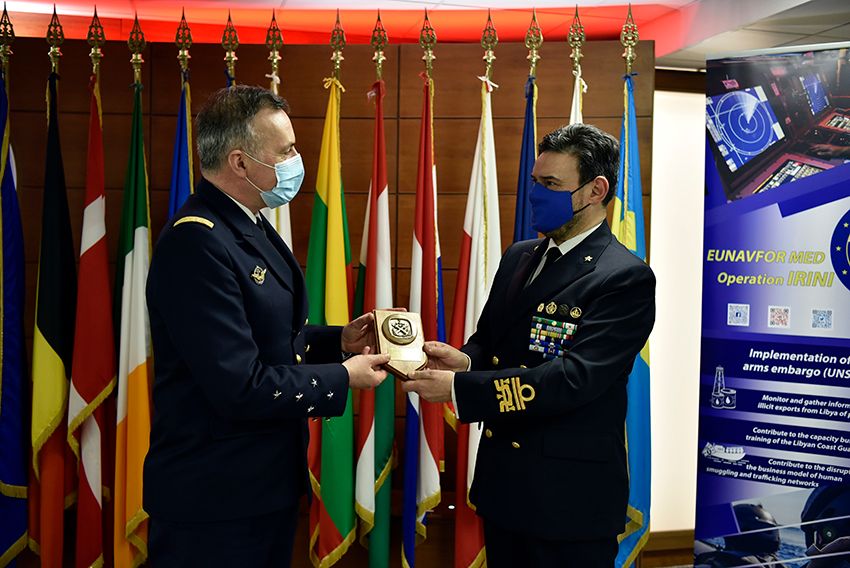 Rome – The Chief of Staff of French Navy, Admiral Pierre Vandier, visited Operation IRINI's Headquarters hosted in the Italian Joint Operation Headquarters on March 1st.
Welcomed by IRINI's Operation Commander, Admiral Fabio Agostini, and his deputy, Admiral Jean-Michel Martinet, Admiral Vandier was introduced to the senior staff members of the OHQ and received an accurate update on the Operation and its results.
"We thank the French Navy for their contribution to the Operation" said Admiral Agostini. "We are particularly glad to benefit of the presence of the French maritime and air assets in direct support as well as of the recurring provision of assets in Associated Support"continued. "Talking about personnel we can absolutely rely on the well-known competence and professionalism of the French personnel that has been deployed within EUNAVFOR MED throughout the years. Furthermore this visit demonstrates once again the utmost importance addressed by France to Operation IRINI" concluded the Operation Commander.
"The security issues are becoming more important every day in the Mediterranean, and you are on the front line to stem the spread of violence in our region" said Admiral Pierre Vandier. "This Operation is boosting Europe's stance. Continue to lead it with your determination, and be assured of the full support of the French Navy" concluded.
The strong cooperation between the French Navy and Operation IRINI was consolidate on February 23 when  the French task group "Jeanne D'Arc" engaged in a naval exercise (Passex) with Irini's assets in EUNAFORMED Area of Operation.
This exercise was a great opportunity for both Task Forces to conduct a number of drills concerning communication systems and also some tactical manoeuvre. See the photos