17 Feb 2021
The Ambassador of Netherlands in Italy visits Operation IRINI's Headquarters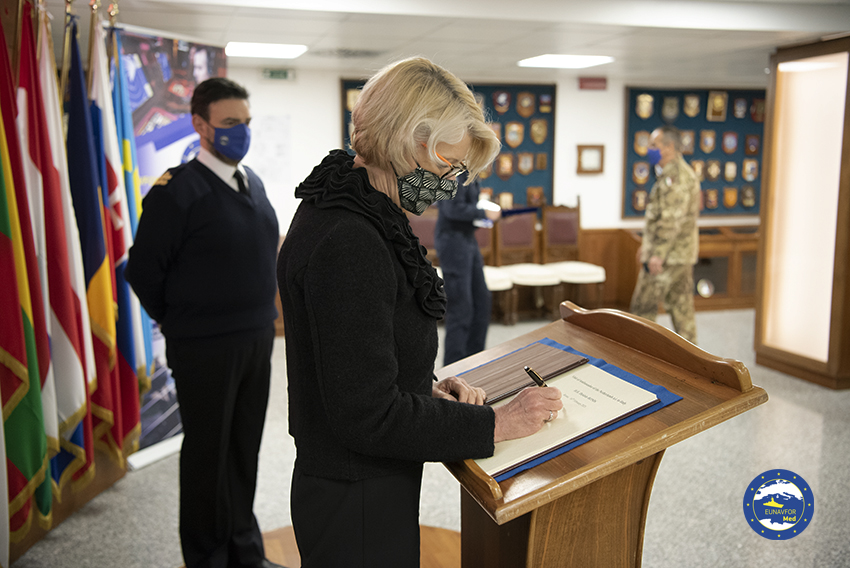 Rome – The Ambassador a.i. of Netherlands in Italy, Ms Désirée Bonis, visited Operation IRINI's Headquarters hosted in the Italian Joint Operation Headquarters on February 16.
Welcomed by the Italian Joint Operation Headquarters Commander, General Luciano Portolano and IRINI's Operation Commander, Admiral Fabio Agostini, the Ambassador Bonis was introduced to the senior staff members of the OHQ and received an update on the Operation and its results.
"The Netherlands supports EUNAVFOR MED IRINI in contributing to the implementation of UNSC Resolution 2292 on the arms embargo on Libya" said the Ambassador. "We thank Rear Admiral Agostini and his staff for the warm welcome at the Headquarters in Rome and commend them for their excellent work in the Operation" concluded.
"Your visit is another tangible evidence of the importance addressed to IRINI by your country" said Admiral Fabio Agostini. "Operation IRINI needs the continuous support of all Member States to reaffirm the already strong commitment of the EU to bring peace to Libya in such a delicate and crucial moment in the history of this tormented country."
At the end of the visit, the Ambassador met her national contingent in the Headquarters.