Are you graduate interested in international Defence Policy and issues? Are you curious to learn more about work of a professional within OHQ EUNAVFOR MED and how the OHQ EUNAVFOR MED represents EU interests and values in Mediterranean area?
The EU OHQ of Rome is offering an Internships Programme opportunity to allow university students at three-year or specialized level (see Annex A of the Internship Programme – Procedure and Rules) to get in touch with the Common Security and Defence Policy mission. The programme is aimed at postgraduate students from Member States of the European Union. Students of the EU Member States will be allowed to take part to the Programme, according to specific eligibility criteria.
Overview what the Internship Program is: 
Provides interns with the opportunity to work in a multicultural and multi linguistic environment, thus contributing to the development of mutual understanding and trust;
Promotes European integration;
Provides interns with the opportunity to put into practice the knowledge they have acquired during their studies and training;
Allows interns a specific understanding of the objectives, goals and activities of the Operation EUNAVFOR MED Irini;
Exposes interns to the work within the EUNAVFOR MED OHQ to build up specific experience and skills.
What the Internship Program offers to the interns:
The chance to learn about the day-to-day working environment of the EUNAVFOR MED OHQ and about the European Union Common Security and Defence Policy;
The opportunity to develop their professional skills and gain practical working experience in a multi-national environment;
A chance to meet many professionals and benefit from their knowledge and mentorship;
An opportunity to meet and link-up with like-minded professionals.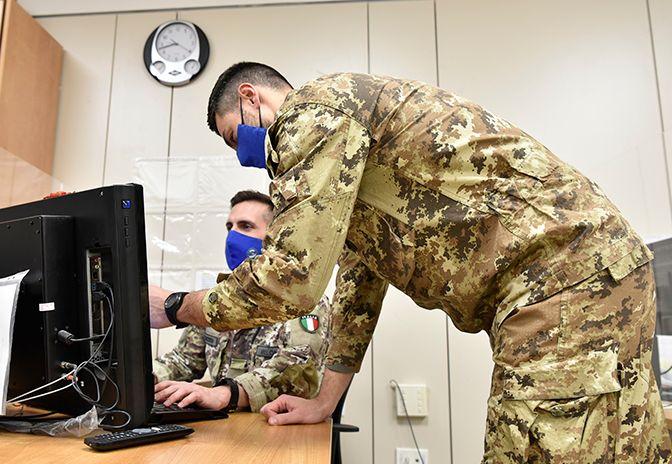 The Internship Program general terms
Has an average tour duration of four months (renewable for other 4 months), will be run in 3 period per year and does not constitute a commitment to future employment with the EU;
Is free of charge for interns and with no remuneration or cost refund by EUNAVFOR MED OHQ;
Offers a limited number of slots for interns that are filled subject to the current availability and receptiveness of the various Branches for the fields of experience offered.
Who can apply?
Citizens from Member States of the EU;
Applicants which graduated from a university or equivalent higher-education establishment with at least a Bachelor's level;
Applicants which have the capacity to work in English languages (Orally, Writing) which is required for the fulfilment of their duties;
Applicants which have clear Criminal Record History (issued within the previous six month);
Applicants which are physically fit to perform the duties of the internship;
Applicants, which have health insurance (or equivalent National Health System coverage).
How to apply?

THE INTENDED INTERNSHIP PROGRAMME IS TEMPORARILY SUSPENDED DUE TO RECENT LEGAL ISSUES.  ENFM IRINI ESPRESSES ITS REGRET FOR THE SITUATION, AND ITS WILL AT THE ISSUES TO BE SOLVED AS SOON AS POSSIBLE.